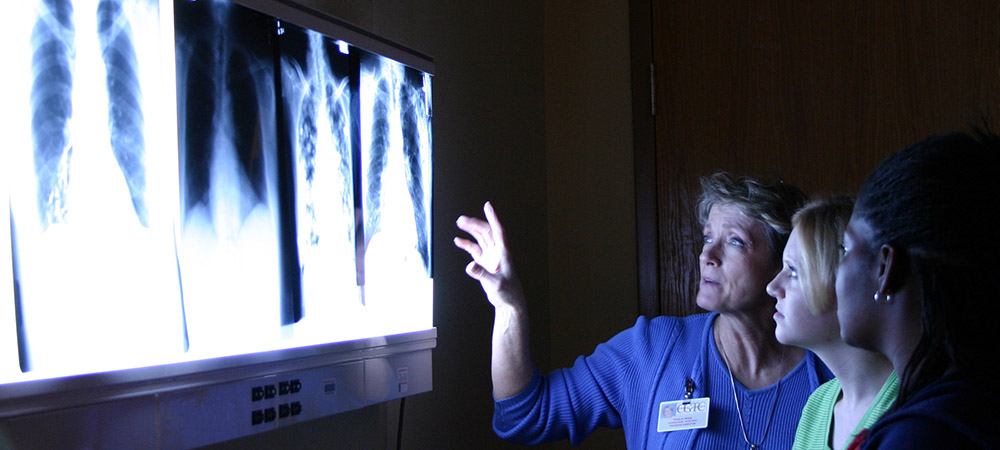 Radiologic Technologists produce images (primarily x-rays) of parts of the human body for use in diagnosing medical problems (injury or disease). They prepare patients for radiologic examinations by explaining the procedure, removing jewelry, and other articles through which x-rays cannot pass, and positioning patients so that parts of the body can be appropriately radiographed. To prevent unnecessary exposure to radiation, these workers surround the exposed area with radiation protection devices, such as lead shields, or limit the size of the x-ray beam. Radiographers position radiographic equipment at the correct angle and height over the appropriate area of a patient's body. Radiologic Technologists must follow physicians' orders precisely and conform to regulations concerning the use of radiation to protect themselves, their patients, and their coworkers from unnecessary exposure.
The mission of the CGTC Radiography Program is to provide quality instruction for radiography students that will enable them to benefit and contribute to the economic development of the community. It prepares students for employment in radiologic technology and encourages personal and professional development.
Degrees
Advanced Medical Imaging Degree
Radiologic Technology Associate Degree
Certificates
Computed Tomography Technical Certificate of Credit
Magnetic Resonance Imaging Technical Certificate of Credit
---
Admissions Requirements
Program Costs
Accreditation Information
Employment Outlook
Additional Information
The Radiologic Technology program is accredited by the Joint Review Committee on Education in Radiologic Technology (JRCERT). 20 North Wacker Drive, Suite 2850 Chicago, IL 60606-3182 (312) 704-5300; email mail@jrcert.org
Macon Campus-#0600 Status: Accredited. Length of Accreditation Award: 8 Years. Most Recent Site Visit: 02/2021. Next Scheduled Review: 01/01/2029.
Warner Robins Campus-#0456 Status: Accredited. Length of Accreditation Award: 8 Years. Most Recent Site Visit: 04/2016. Next Scheduled Review: 04/01/2024.