CGTC's 52nd Commencement Exercise from Andre Cabiness on Vimeo.
---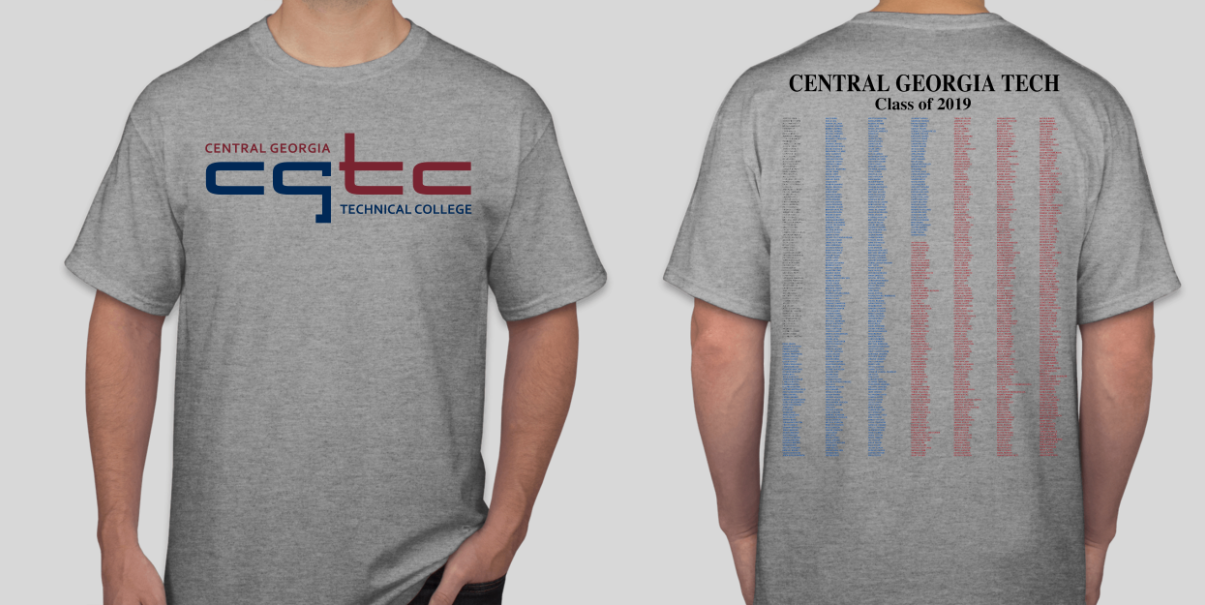 There is still time to purchase the official Class of 2019 t-shirt! The cost is $25 per t-shirt (plus $10 shipping) and unisex sizes S, M, L, XL, and XXL are available. Orders will be accepted until July 15, 2019. If you would like to purchase a t-shirt, please email skye@thecommencementgroup.com.
---
Graduation Requirements
Graduates must satisfy the College's residency requirement (students must complete at least 25% of the coursework in their program of study at CGTC).
Your high school/GED transcript and college transcript (if applicable) must be on file with the Office of Admissions.
All financial obligations or responsibilities (library fines, parking fines, financial balances, etc.) must be settled.
Graduate Application Checklist
Submit a graduation application in the Student Portal (login to the Student Portal, click Forms, then click Apply for Graduation). You must submit the application by the end of February if you wish to participate in the graduation ceremony.
Pay the $40 application fee (degree and diploma graduates only) for each copy of the degree and/or diploma that you would like to receive.

Students can pay in person at the Cashier Window or by phone

Warner Robins campus, Room A-129 | (478) 218-3387
Macon campus, Room J-152 | (478) 757-3412
Milledgeville campus, Room A-141 | (478) 445-2303

Take the ACT WorkKeys assessment in the Testing Center (degree and diploma graduates only). There is no cost to take this assessment.
Complete the Graduate Exit Survey (the survey will be available online once you submit your graduation application through the Student Portal).
If you received a student loan from CGTC, you must complete exit counseling at www.studentloans.gov.
Diplomas, degrees, and certificates will be mailed 8 – 10 weeks after the semester of completion.
Graduation Ceremony Information
Timeline and Important Dates
February 28, 2020: Submit your graduation application. Requests submitted after the deadline will not appear in the graduation program.
March 23, 2020: Grad Finale (Milledgeville Campus, Building H Quads) | 12:00 p.m. – 2:00 p.m.
March 24, 2020: Grad Finale (Macon Campus, Building H Auditorium) | 1:00 p.m. – 5:00 p.m.
March 26, 2020: Grad Finale (Warner Robins Campus, Building W Quads) | 1:00 p.m. – 5:00 p.m.
May 1, 2020: Graduation ceremony | Macon Coliseum | 200 Coliseum Dr, Macon, GA 31217 | 7:00 p.m. All graduates must be seated by 5:30 p.m. Click HERE for a map of the Macon Coliseum.
General Information
Students who will complete (or who have completed) all requirements for a degree or diploma by the end of spring semester are eligible to participate in the graduation ceremony.
Graduates may purchase class rings, graduation announcements, diploma frames, etc. online from Jostens or by attending Grad Finale.
All graduates are encouraged to attend Grad Finale, which is a one-stop-shop to check graduation status, complete exit loan counseling, update resumes, receive graduation information, take graduation photos, order class rings and invitations, and purchase graduation memorabilia.
Regalia (Cap and Gown)
Graduates who answer "Yes" to the graduation ceremony participation question on the graduation application will receive a letter stating when/where to pick up caps and gowns.
Honor graduates (those with a graduation GPA of 3.5 or higher) will receive a gold honor cord, to be worn around the neck.
Members of the National Technical Honor Society will receive a white tassel, to be worn on the cap, and a white stole, to be worn around the neck.
Members of the Military and Veterans wear a red, white, and blue cord around their necks.
Ceremony
There is no limit to the number of guests each student can invite to the graduation ceremony.
If special accommodations are needed for a graduate at the graduation ceremony, please contact the Registrar's Office.
Graduates should wear dark colored clothing and comfortable shoes. No tennis shoes, work boots, flip-flops, or jeans.
All graduates should wear the tassel on the right side of their caps.
Please do not bring items such as purses, bookbags, etc. as they cannot be carried in the processional.
Live streaming of the ceremony may be viewed online. Orders may be placed for DVDs of the ceremony (prepaid only); DVDs will be mailed.
GradImages is the official photographer for the graduation ceremony; they will NOT be available to take individual pictures before or after the ceremony (please attend Grad Finale for individual pictures).
All persons AND bags entering the ceremony are subject to search at the discretion of the facility.
GradImages