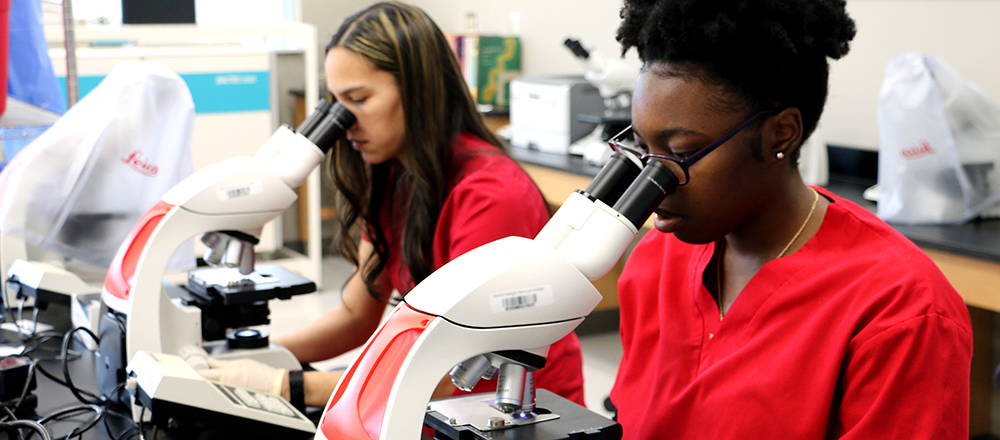 The medical laboratory is a rarely seen but extremely important member of the healthcare team. Phlebotomist and technicians collect blood and other samples from the patient for analysis. Once the samples are obtained, they are analyzed by the Medical Laboratory Technicians and Scientists using basic science methods as well as sophisticated, computer controlled equipment. The patient's healthcare provider will use these results to help determine the cause of the patient's illness and monitor the course of treatment. As much as 70-80% of all critical healthcare treatment decisions are based on these laboratory results.
Some of the areas that are included in the medical laboratory and how they influence a patient's treatment are:
Hematology – study of blood cells in order to diagnose and treat infections, anemia and leukemia.
Chemistry – measurement of glucose, cholesterol, potassium, medication levels, cancer tumor markers, thyroid and liver function to name a few.
Microbiology – identification of bacteria and other microorganisms, and provide antimicrobial susceptibility testing.
Blood Bank – collection, storage, and pre-transfusion testing of blood and plasma components for transfusion to patients.
Degree
Medical Laboratory Technology Associate Degree
Certificates
Phlebotomy Technician Technical Certificate
---
Admissions Requirements
Program Costs
Additional Information
The Medical Laboratory Technology program is accredited by the National Accrediting Agency for Clinical Laboratory Sciences (NAACLS) and approved by the Georgia Department of Human Resources Office of Regulatory Services Diagnostic Services Unit. [Last reaffirmed: 2018]
The National Accrediting Agency for Clinical Laboratory Sciences can be contacted at 5600 N. River Road, Suite 720, Rosemont, IL 60018-5119 or https://www.naacls.org.