A CGTC education means small classes, hands-on experience, and more instructor attention. CGTC offers small student-to-teacher ratios and the learning is hands-on using state-of-the-art equipment and real-world settings.
Programs of Study
CGTC programs supply the workforce for Central Georgia's strategic industries. CGTC offers programs related to four of the six industries that the Commission for a New Georgia identified as needed to keep Georgia competitive in the global economy: aerospace, healthcare, life sciences including biotechnology, and logistics and transportation.
Visit our programs of study pages to learn more, or view our catalog for a complete listing of programs and courses.
Academic Success Center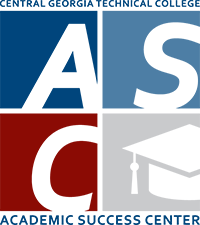 Tutoring and other academic support services are provided for students at no charge in the Academic Success Center (ASC) on the Warner Robins, Macon, and Milledgeville campuses. Tutors are available for Math, English, Reading, Health Core, Computer, and various other courses. In addition to individual tutoring, study groups may be available.
The ASC also offers study skills workshops on such topics as Test Taking Skills, Reading Comprehension, and Note Taking. The tutoring staff also helps students with other academic difficulties such as test anxiety and time management.
Online course tutoring is available. In addition to face-to-face individual and group tutoring, an online tutoring service, Smarthinking® is also available for students.
Library Services
The Library provides a variety of resources and services in support of the curricular, professional, and individual development needs of the students, faculty, staff, and community affiliates of CGTC. The academic and personal success of CGTC's educational community is important to the library, and every effort is made to meet their informational needs.
---
Academic Affairs Forms & Information

Request for Appeal Form

Academic Affairs Division by Dean

Faculty Qualification Equivalency Form