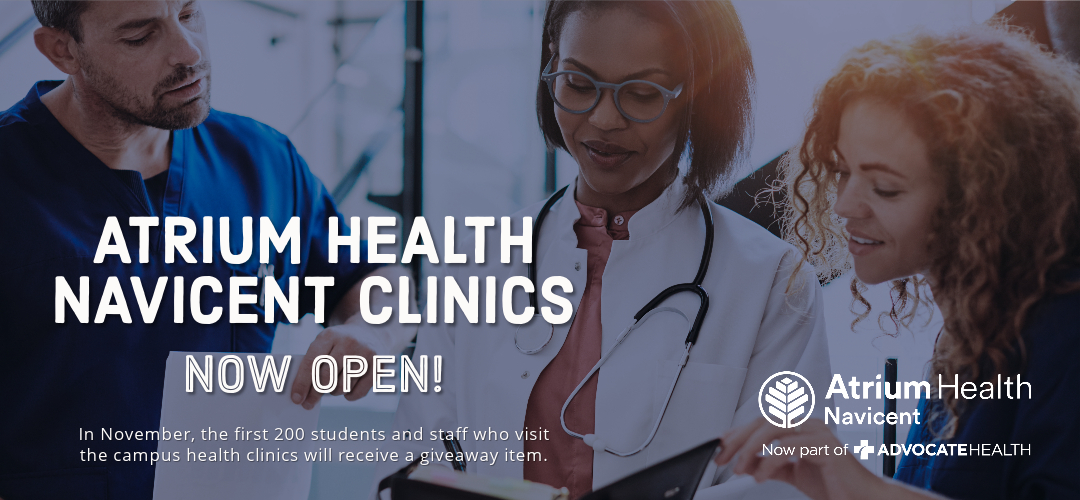 The Atrium Health Navicent Campus Health Clinics provide high-quality, confidential health care for CGTC students.
All CGTC students in Macon and Warner Robins can access basic medical services without leaving campus. Students at the Milledgeville campus have access to services less than a mile away at the LiveWELL Care clinic at Atrium Health Navicent Baldwin.
Students receiving health care services will not be charged for care that takes place in the clinic. These services are covered by the student health and wellness fee.
Appointments can be made by calling the clinics directly at the numbers below, but walk-ins are welcome. Video visits are also available.
Clinic Hours:
Macon and Warner Robins
Monday – Thursday
9 a.m. – 6 p.m. (closed 1 – 2 p.m.)
Friday
9 a.m. – Noon
Milledgeville
Monday – Friday
8 a.m. – 5 p.m. (closed Noon – 1 p.m.)
---
Services
The clinics offer extensive health care services, including:
Treatment for colds, flu, allergies, sinus infections, urinary tract infections and COVID-19
First aid for minor cuts, burns, sprains, and strains
Testing for STIs and pregnancy
Wellness exams
Care for chronic conditions such as diabetes or asthma
Prescription management
Annual physicals
---
Care Team
The clinics are staffed by highly trained teams, which include a physician assistant or nurse practitioner, registered nurse, and certified medical assistant.
---
Safe and Confidential
The clinics offer a safe space for students to come for information or treatment. Services are 100% confidential and HIPAA compliant. These are safe spaces for students to come, learn and get help.
---
Locations
Macon

Warner Robins

Milledgeville
(Atrium Health Navicent Baldwin)

3300 Macon Tech Drive
Building I, Suite 211
Macon, GA 31206

80 Cohen Walker Drive
Building G
Warner Robins, GA 31088

821 North Cobb Street
Milledgeville, GA 31061

478-476-5300

478-218-3890

478-776-4039
About Atrium Health Navicent
Atrium Health Navicent is the leading provider of healthcare in central and south Georgia and is committed to its mission of elevating health and well-being through compassionate care. Atrium Health Navicent is part of Advocate Health, which is headquartered in Charlotte, North Carolina, and is the fifth-largest nonprofit health system in the United States, created from the combination of Atrium Health and Advocate Aurora Health. Atrium Health Navicent provides high-quality, personalized care in 53 specialties at more than 50 facilities throughout the region.