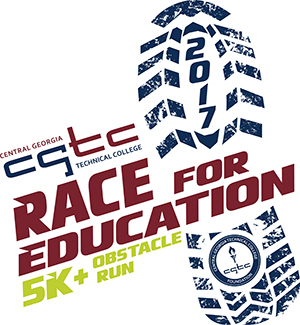 Warner Robins, Ga. – The Central Georgia Technical College (CGTC) Foundation's 8th Annual Race for Education 5K will add a new challenge to its race day events on September 9, 2017 at the Warner Robins campus located at 80 Cohen Walker Drive. The event replaces its 1-Mile Fun Run with an Obstacle Run.
"We are thrilled to be hosting our 8th Race for Education, and we're particularly excited to add obstacles to the one-mile run this year," said Tonya McClure, assistant vice president of advancement at CGTC. "While they aren't too challenging, they will certainly allow participants to have an unforgettable experience. Although we want every participant to have a great time, we also want them to be mindful of the ever growing financial need for GED® testing and programming for our adult education initiatives. The assistance provided by the Foundation to support these students not only helps them and their families, our communities will be stronger as a result of their educational successes."
The Race for Education is a fundraiser supporting Adult Education programs at CGTC. All proceeds from the Race for Education are utilized by CGTC's Adult Education Program which provides GED® preparation and testing, basic skills classes, Accelerating Opportunities (AO), and college and career transition support. Held annually in September, the race celebrates National Literacy Month.
The obstacle challenges in this year's one-mile run are called the Warrior Jump and Adrenaline Rush. The event will also include music, a KidZone, and other fun activities.
Same-day registration for all races will begin at 7:00 a.m. with scheduled start times of 8:00 a.m., and 8:30 a.m., for the 5K and Obstacle Run respectively. Early registration for the 5K is $25 and $20 for the Obstacle Run. Late registration for the 5K is $30 and $25 for the Obstacle Run. Teams are highly encouraged to participate and will receive a 10% discount toward the cost of registration. Early registration ends August 31, 2017.
Race logistics and finish line management and results will be provided by Milestone Race Authority and submitted to ItsYourRace.com, and a regional publication called Running Journal. And, a new feature where race participants can receive their times directly to their cell phones will be available.
Medals will be awarded to the overall male and female finishers and the top three finishers in each age group (5K). Obstacle Run participants will receive a ribbon.
This year's event sponsor is BB&T. Kuhmo Tires, Robins Financial Credit Union, B95.1FM, GEICO are platinum sponsors for this year's event. Silver sponsors include Flint Energies, Georgia Power, Geotechnical & Environmental Consultants, Inc., State Farm, Andy Thomas, Daron Lee. Bronze sponsors include Gateway Healthcare Agency, Dooly County Helping Our People Excel CLCP, and Literacy Education for Adults in Peach County, Inc., Scott's Healthmart Pharmacy, State Farm, Kevin Barry, SWL Corporation Family Supermarket, and Total Beauty Supply.
The course runs along CGTC's Warner Robins campus on Cohen Walker Drive offering a scenic and challenging route.
Registration for the race is currently facilitated through It's Your Race at http://RaceforEducation5k.itsyourrace.com or by visiting,http://www.centralgatech.edu/foundation/events/
Sponsorship information is also available on the same link to the CGTC Foundation page.
About CGTC's Adult Education Division:
The Adult Education Divisions' mission is to help adult learners in central Georgia acquire the skills necessary to successfully compete in today's global workplace, to strengthen individual character and family foundations, and to exercise full citizenship. Adult learners enrolled in the program acquire the basic skills of reading, writing, computation, speaking, and listening they need. This program delivers educational services responsive to the individual needs of students who are undereducated. English literacy classes are also available for those citizens who are not proficient in speaking and/or writing English.
About CGTC's Foundation:
The Central Georgia Technical College Foundation, a nonprofit, 501(c)3 organization, supports Central Georgia Technical College in its mission to contribute to economic and workforce development in Central Georgia. The Foundation strives to promote community awareness of the benefits offered by the College and to supplement available resources through private funding for capital expansion and improvements, equipment, staff and faculty development, and endowments. The CGTC Foundation serves students, educational initiatives, and community partnerships in Baldwin, Bibb, Crawford, Dooly, Houston, Jones, Monroe, Peach, Pulaski, Putnam, and Twiggs Counties.