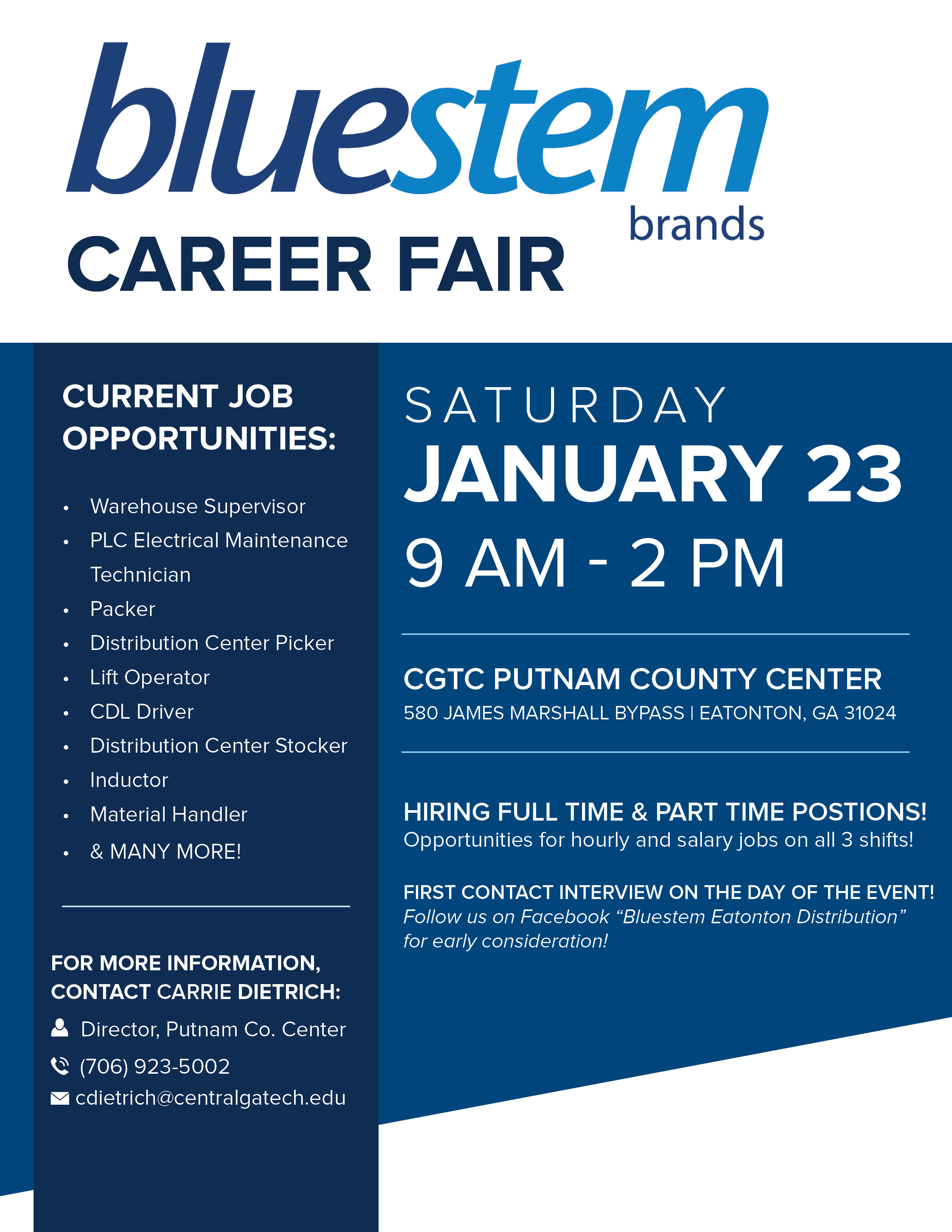 Eatonton, Ga. – Following the announcement of its job-creating distribution expansion in Putnam County, Bluestem Brands will host a job fair at the Putnam County Center of Central Georgia Technical College (CGTC) on Saturday, January 23, 2021, from 9 a.m. to 2 p.m.
On January 13, Gov. Brian Kemp announced the $1 million investment by Bluestem Brands to expand its current Eatonton distribution center. The Georgia Department of Economic Development (GDEcD) worked in partnership with CGTC, the Putnam County Development Authority, The Georgia Department of Labor, and Georgia Quickstart to help bring this investment to Eatonton.
Putnam County Center director, Carrie Dietrich said she is proud to make the Center available to Bluestem to host this event and play a small, helpful role in workforce development.
"This hiring event is exciting news in 2021 for Putnam County," she said. "The College is proud to open our center doors to any company willing to consider the citizens of Putnam County for employment, and ultimately improving the economic future of our region. We hope qualified candidates come out, speak with Bluestem representatives, and show them the wealth of talent our community has to offer. We will all be better for it." 
According to the company, opportunities at Bluestem include full and part-time positions on all three shifts as Warehouse Supervisor, PLC Electrical Maintenance Technician, Lift Operator, CDL Driver, Inductor, Material Handler, and more. 
Follow Bluestem Eatonton Distribution on Facebook for early consideration and updates.
CGTC's Putnam County Center is located at 580 James Marshall Bypass Eatonton, Ga., 31024
Read more on Bluestem's expansion announcement here: https://www.georgia.org/newsroom/press-releases/e-commerce-company-bluestem-brands-more-doubles-georgia-presence-putnam
PHOTO: Bluestem hiring event flyer.
#