Warner Robins, Ga. – Central Georgia Technical College (CGTC) Office of Global Initiatives is inviting students of underrepresented ethnicities in study abroad (e.g. American Indian/Alaska Native, Asian, Black/African American, Hispanic/Latino or Native Hawaiian/Other Pacific Islander) to apply for a unique fellowship opportunity honoring the legacy of Frederick Douglass. 
The Frederick Douglass Global Fellowship award covers the full program cost, airfare, and most meals for a four-week, 3-credit study abroad sponsored by CIEE. 
During the four-week summer program, Fellows will travel to Washington, DC, Cape Town, Dublin, Derry, and Belfast to explore the legacies of Frederick Douglass, Abraham Lincoln, John Lewis, Nelson Mandela, Bishop Desmond Tutu, Daniel O'Connell, John Hume, and other giants of social change. 
The program pays tribute to Frederick Douglass' transformative experience visiting Ireland more than 175 years ago. Douglass was embraced by the Irish people and met the famous Irish reformer Daniel O'Connell who expanded Douglass' view of social injustice and influenced his style of agitating for positive social change through non-violent social and political efforts. 
The Government of Ireland is again sponsoring the 2023 Fellows in celebration of this historic meeting and Ireland's commitment to social justice and peacebuilding. 
The program runs from July 7 – August 4, 2023. 
The College, its faculty, staff, and leadership value the representation of diversity, and encourage qualified students to apply for the fellowship.
Join CIEE on Tuesday, December 13 at 2 p.m. ET for a virtual information session about the Frederick Douglass Global Fellowship. During this FREE session, you'll learn about the application process, eligibility requirements, and additional details about this fully-funded summer study abroad program.
Register for the virtual session here: Register Today ›
CGTC's Office of Global Initiatives encourages interested students to notify its Marketing and International Outreach Coordinator, JoBen Rivera-Thompson at jrivera-thompson@centralgarech.edu, prior to applying.
For more information on the Fellowship, visit: https://www.ciee.org/go-abroad/college-study-abroad/scholarships/frederick-douglass-global-fellowship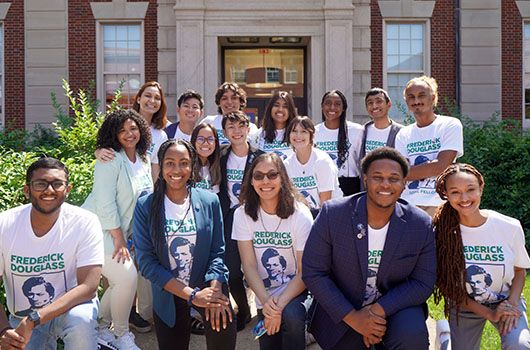 Photo: A group of past Frederick Douglass Global Fellows gathers for a photo.