Fort Valley, Ga. – Brittany Shaw walked into the Peach County Workforce Development Center (PCWDC) on the first day of her Diesel Equipment Technology class with Central Georgia Technical College (CGTC) scared that she would be the only woman in the class. As fate would have it, another woman, Tameka Johnson, grabbed her hand and directed her to their classroom.
"I'll take you to the diesel mechanic classroom," Johnson recalled telling Shaw on their first day, "You are in there with me."
A partnership was born out of relief, they said, to find each other in the same "truck-bed" of sorts, setting at ease – at least for the moment – their journey to take on the most unlikely of programs for women.
A program that is so unlikely the Technical College System of Georgia (TCSG) defines Diesel Truck Maintenance as one of several nontraditional career programs for females alongside, auto mechanic, carpentry, computer technology, and welding.
TCSG and the College's Special Populations Office provide support and encouragement to each gender and its corresponding students' pursuit of careers in nontraditional fields. Steady advisement and sound expectations often lead students to pursue an unexpected career avenue.
"I sort of did a process of elimination of short-term school tracks, vocational training programs and schools to see what my best option would be for right now," Johnson said, explaining that her and her fiancé have plans to own a freight company. "When I saw the diesel program, and the HOPE Career grant information, I looked at salaries for positions and the demand of careers and saw that this short term of a program combined with potential earnings provided the best track.
In Georgia, the HOPE Career Grant helps eligible students enrolled in high-demand career programs attend technical colleges tuition-free with very little out-of-pocket costs.
With that information, Johnson made some heady moves for any young student. She researched and learned that from Warner Robins to Fort Valley, Miami, where she previously lived, to New York City, average salaries hover at $18 to $30 an hour and the track to earning credentials took no more than two years.
Shaw did not do as much research, but instead knew a diesel mechanic who made good money. Even still, she never gave it much thought until about three months ago.
"It can be very intimidating because we are girls and the guys, you know, know more about the whole subject," Shaw said. "But it is a good thing to have under your belt."
What do Johnson and Shaw believe holds females back from doing something like this?
"It's the fact that they do not think we are strong enough," Shaw said. "A lot of the equipment, tools, and even just talking about the subject sometimes can be overwhelming, but we talk to our instructor when we are not understanding something and he will break it down for us."
Johnson and Shaw exude freight-level confidence. Outside voices might have a lot to say about women working on very large trucks, but they choose to keep moving on by.
"We are different, men and women, whether it's the way we build or how society puts pressures on us to think differently," Johnson said. "It is challenging. I like to wear make-up every day. In fact, I was told the other day by two people, 'you are too pretty to work on trucks,'"
Her response, "if anything the grease piling up will protect my skin."
The Diesel Truck Maintenance program is experiencing a revitalization at the PCWDC thanks to growing interest in the community and the instruction of Lance Teele, Diesel Truck Maintenance program chair.
While Johnson and Shaw's experience in the course is unique, it is easy to forget the challenges all students face with hands-on education. Electrical and computer systems for diesel can be some of the toughest course material for any student to "wrap their mind around", according to Teele.
"My expectation, trust, and dedication for this group of ladies as well as the young men enrolled is to equip them with as much as they can hold to send them into the workforce and be productive citizens," he said.  "This group, by far is one of the best groups I've ever had the pleasure of working with. There is no doubt that they will exceed expectations of not only myself, but of CGTC as well. I do not expect them to catch it all at once, but by graduation, they will have surpassed my expectations."
Johnson and Shaw said they feel a little more at ease because the men in the class are getting their first taste of diesel too at barely a month of class time.
"They are patient," Shaw said. "They have questions and we have questions."
Diesel Mechanic courses are not easy. Command of electronic and computer systems, will soon turn into brakes and drive trains, and the whole Technical Certificate of Credit (TCC), will pass by in a whirlwind, only requiring 23 total credit hours.
So it promises to be fast and furious.
And if there are any two women that can handle that challenge, it is Johnson and Shaw.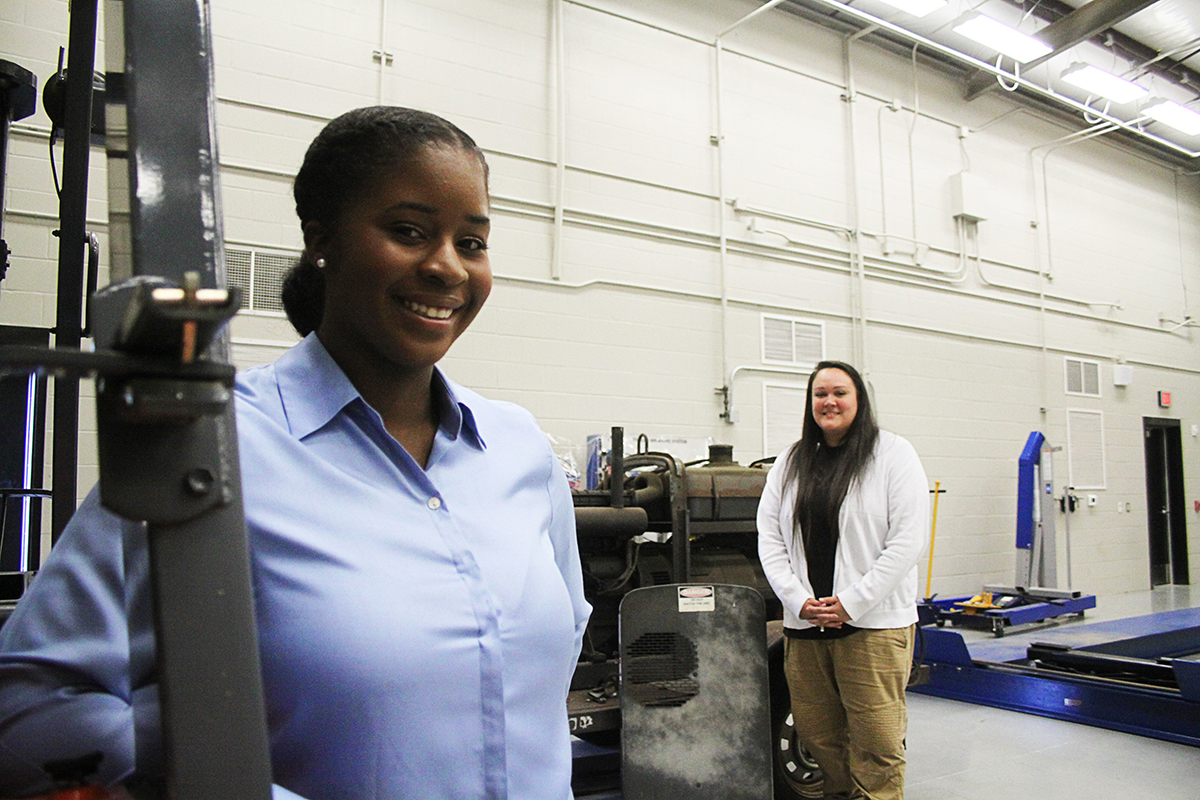 Photo: (Left to Right) Tameka Johnson and Brittany Shaw are less than one month into the Diesel Truck Maintenance program at CGTC, overcoming outside expectations for females and facing challenges head-on.