Warner Robins, Ga. – Dr. Vernard Hodges, a local veterinarian and entrepreneur, spoke at a session of the Raising Expectations of Achievement (REACH) program on the Warner Robins campus this week.
Sharing from his book titled, "Bet on Yourself: From Zero to Millions," the former CGTC board of directors member, gave tips to those in attendance on how to improve their individual financial and life situations through self-assuredness. He spoke on overcoming his life's challenges and the mentors in his life.
Students had the opportunity to participate in a question and answer session following his address, and Dr. Hodges encouraged each of them to use each other to springboard ideas for entrepreneurship.
As an African American male, Hodges lent a strong voice to the minority population REACH aims to serve. The program focuses on students in learning support courses who are males between the ages of 18 and 24 entering the College for the first time.
The program provides an opportunity for faculty mentors to build a relationship with the students and act as a guide for them through their college experience. REACH students meet twice monthly for lunch and valuable messages from community guest speakers on a variety of topics including professional image, self-confidence, study skills, and time management.
Dr. Hodges, is a passionate practitioner of veterinarian medicine, fish biologist, and proponent of technical education. Beginning his time on the board with Middle Georgia Technical College, he formed part of the board responsible for overseeing the College's merger in 2013. He represented Peach County from 2011 to 2017.
For more information on the REACH program contact, Rolandria Tolbert at rtolbert@centralgatech.edu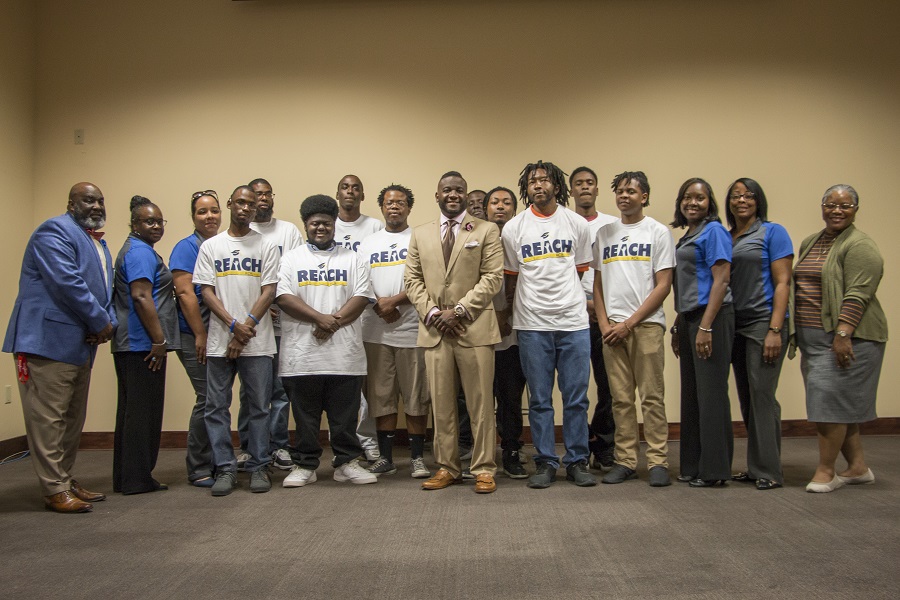 REACH program students and mentors gather with Dr. Vernard Hodges (center).