Article courtesy of Path2College 529 Plan:
Warner Robins, Ga. – Anaya West, an eight-year-old from Warner Robins, was awarded a $1,529 Path2College 529 Plan college savings contribution as one of the winners of the We Care Child Care Sweepstakes. The sweepstakes was held by the Path2College 529 Plan and the Department of Early Care and Learning (DECAL) in an effort to raise awareness about the importance of continued education and financial planning.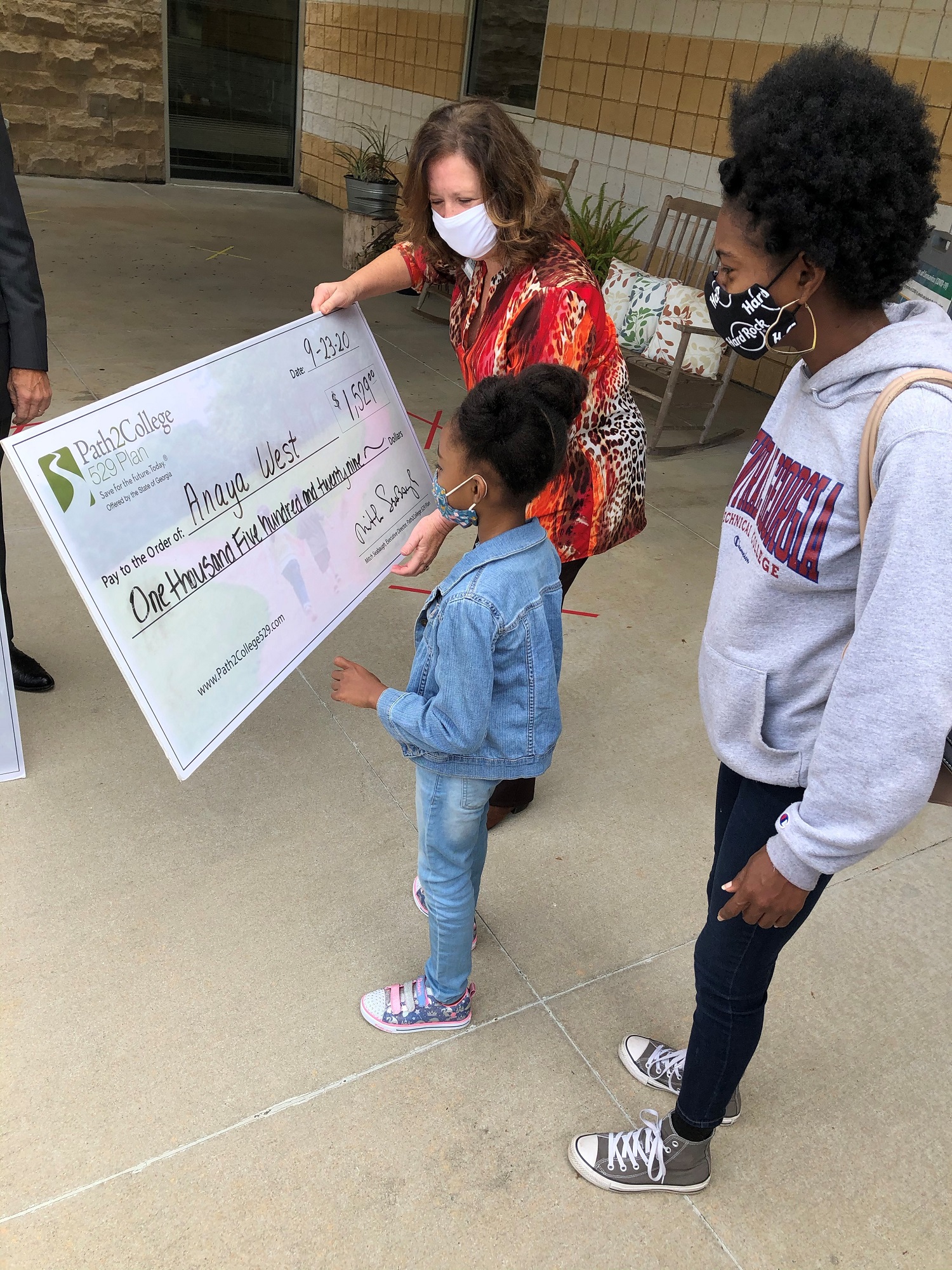 "College has been instrumental in changing my life, I am so fortunate that my daughter can get a head start with funds to assist her when she begins her life changing journey," said Adria West, Anaya's mom who entered her in the sweepstakes.
Anaya's child care, the Childcare Dev Center at Central Georgia Technical College, also won $529. The center plans to use its award to purchase new equipment for the outdoor learning environment.
"I am beyond excited that Anaya is a winner of the Path2College We Care Child Care sweepstakes for this year!  The opportunity to jumpstart her college savings is awesome," said Linda Smith, director of the Childcare Dev Center at Central Georgia Technical College. "Anaya's mom, Adria, is a current student in the Construction Management Program at CGTC.   Child care for Anaya, during the summer, was paid for by Start Titan Strong, which is funded by the US Department of Education CCAMPIS grant for student/parents.  This win is a great example of TwoGen strategies working for parent and child, and the generational impact of higher education."
This is the sixth year that Path2College and DECAL have partnered on the We Care Child Care Sweepstakes, and there were more than 450 entries this year.
"Families with young children have so many things happening in their lives that it's often easy to put things like saving for college aside. We hope this sweepstakes raises awareness among parents and grandparents about the importance of saving for college early and the financial resources offered by the state of Georgia that can help young children prepare for their educational future," said Lynne Riley, president of the Georgia Student Finance Commission which partners with the Office of the State Treasurer to administer the Path2College 529 Plan for the state of Georgia.
Winners of the sweepstakes were randomly from four regions—Metro Atlanta, Southeast, North, and South Georgia.
"Congratulations to the families who won this year's We Care, Child Care Sweepstakes. The win will provide seed money for their child's/children's postsecondary education that today may seem far away but will be here before they know it," said DECAL Commissioner Amy M. Jacobs." And I acknowledge and thank the child care providers who helped spread the word about Georgia's Path2College 529 Plan. DECAL and the Georgia Student Finance Commission are honored to help families and child care providers lay an academic and financial foundation for life-long learning in Georgia's youngest citizens."
Past winners of the We Care, Child Care sweepstakes include: Khylen Warren of Fort Valley, Lord Christopher of Brunswick, Giancarlo Gomez and Brandaya Newland of Snellville, Isabella Branson of Kennesaw, Easton Williams and Lily Wallace of Gainesville, Adaleigh Carter of Athens, Rebekah Suggs of Ludowici, Emily Haberman of Senoia, Alexander Hawkins of Augusta, Amelia Jane Thomason of Cleveland, Maci Hodo and Kedren Ceesay of Atlanta, Nevaeh White of Griffin, Lucas Chapman of Macon, Jensie Merritt and Carter Faulk from Alma, Liam Cain from Appling, Javon Green from Columbus, and Daishaun Burgess from Lithonia.
For more information about the Path2College 529 Plan or to open a college savings account, please visit www.Path2College529.com or call (877) 424-4377.
Photo: Anaya West looks at her college savings plan check alongside her mother, Adria a student in Construction Management and Center director, Linda Smith.