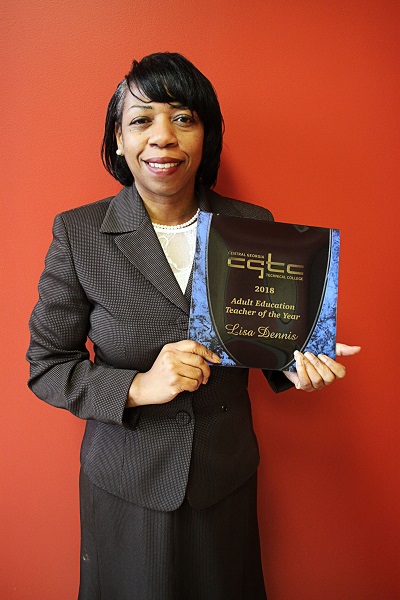 Warner Robins, Ga. – The approach to teaching for Lisa Dennis, the newly recognized 2018 Instructor of the Year for Central Georgia Technical College's (CGTC) Adult Education Division (AED), is one that has generally been centered on students with years removed from the classroom, but even as the "adult" has changed, her focus has never deviated.
"Challenges and rewards are abundant and normal in Adult Education," said Dennis, a 17-year veteran of adult education instruction. "Throughout my time working, I found that teaching adult education classes became more challenging after the under-aged youth population became the majority instead of the minority."
The AED serves older populations that have rediscovered their desire for an education, but also, increasingly meets the needs of the high school dropout population; overseeing their growth from enrollment to earning their GED®, and continued credit enrollment with the College should they choose.
"We are resilient and equipped to handle changes and deal with them appropriately," she said, calling the opportunity to teach them a win-win situation.
"Our students win because they are accomplishing their goal of becoming a GED® recipient, and our organization wins because we assisted them in this effort."
The nomination and award of 2018 Instructor of the Year for the Division came as a surprise to Dennis, saying that her peers have validated her efforts and in doing so created a strong comradery.
"With years of experience in the program, Lisa is a strong team player who is very passionate about adult education. She is honest, confident, dependable and creative," said Dorothy Ferguson, director of operations for the Division.
As a nontraditional college graduate, Dennis was a master cosmetologist prior to teaching part-time in the AED in January 2001. Two months later, the Division hired her full-time and from there she has remained with the Division.
"The division is flexible in allowing us to be innovative in achieving our organizational goals while remaining compliant in our efforts," she said.
Dennis holds a Bachelor of Science Degree in Agricultural Engineering Technology from Fort Valley State University and a Master of Public Administration with a concentration in Public Management from Troy University. Currently, she is pursuing her doctoral degree in Public Policy and Administration from Walden University.
In her spare time, she enjoys spending time with family, reading, cooking, exercising, and playing games.
For more information about the Adult Education Division visit, Adult Education
[Photo] The 2018 Adult Education Instructor of the Year for Central Georgia Technical College, Lisa Dennis, said she feels validated by her peers with this honor and that the recognition has served as a boost of comradery among her work family.