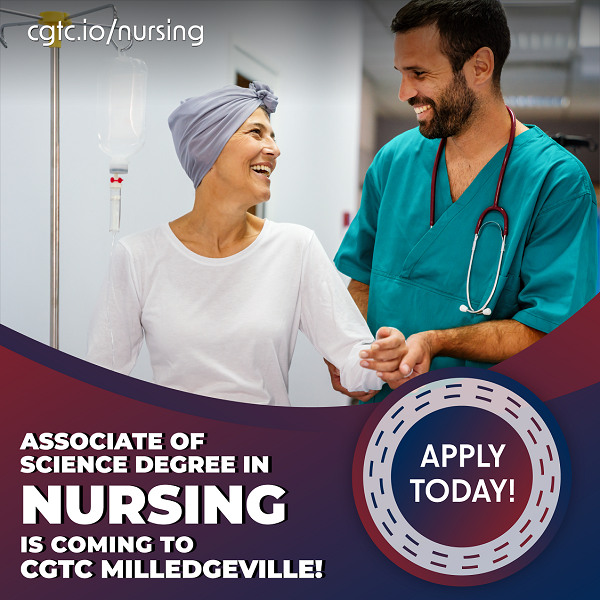 Milledgeville, Ga.- Central Georgia Technical College's (CGTC) Associate of Science in Nursing (ASN) program has earned approval to expand its program to the Milledgeville campus of the College.
The ASN program is one of the signature Health Sciences degrees offered by the College. In 2018, the program graduated its first cohort out of the Warner Robins campus following its initial board approval to start the program in 2016.
Now, with sights set on Milledgeville and the Baldwin County community, the College aims to meet student interest and community demand.
"The ASN program expansion will have a positive impact on the immediate and surrounding communities as well as continue to meet the needs of the healthcare industry by increasing the number of trained, qualified RNs in support of CGTC's workforce development mission," said CGTC director of Nursing, Jessica Willcox.
"The ASN program expansion to the Milledgeville campus will meet a vital need in Central Georgia as the region faces a critical nursing shortage amidst the COVID-19 pandemic."
CGTC nursing programs have built a solid trajectory for growth and community involvement. The ASN program has been a vital healthcare community workforce development resource for producing competent graduates ready to fill the area's nursing needs.
In addition to its regular community health support by its students and faculty, the ASN program responded to the local needs of the local healthcare community during the COVID-19 pandemic, testing patients for the virus, supporting hospital systems, and inoculating some of the first adults eligible for the vaccine.
CGTC and its Division of Health Sciences welcome students to apply and discover where they can make an impact on the healthcare of the region.
The program will begin competitive selection for Fall Semester 2022.
Interested students should visit https://www.centralgatech.edu/programs-of-study/health-sciences/nursing