Warner Robins, Ga. – The Adult Education Division at Central Georgia Technical College (CGTC) has had a steady climb back to pre-COVID enrollment numbers in its programs, as the College recently announced the Division eclipsed 1,800 enrolled students in FY2023. This represents a 16.8% enrollment increase from FY2022. The number of High School Credential graduates for the Division also grew by 13% with 252 students earning a credential in FY2023.
Challenges with enrolling and administering Adult Secondary Education (ASE), Adult Basic Education (ABE), and English as a Second Language (ESL), during the pandemic were some of the most formidable faced by the College. In addition to on-campus classes, many of the services provided by the Division took place at community centers, churches, or other off-campus locations where gathering safely with proper social distance took time, care, and creativity to manage.
The Division increased technology and found new ways to continue serving and instructing students in virtual formats. As the College returned to more normalcy, the changes have helped the Division surge. 
"Our division put in hard work to be engaged with potential students and serve them even as programs, facilities, and methods have been changing for adult education in Georgia," said AED Vice President Brenda Brown. "We are honored to be continuing in the success we know we are capable of and seeing adult lives transformed through education and training." 
One of the targeted programs aiding in the surge of enrollment is The CGTC Academy Career Plus High School (CPH) pathway, which gives Georgians age 18 and older not enrolled in a high school an opportunity to earn a high school and college credential in an effort to prepare them for in-demand careers within CGTC's eleven-county service area and throughout the state of Georgia. 
The CGTC Academy, a COGNIA-accredited high school at CGTC, enrolls those students who then complete coursework to earn a high school diploma without the stress of a high-stakes test. Students enrolled in the CPH program can acquire basic education and high-demand workforce skills at the same time. After they complete coursework, they earn college credentials in addition to their high school diploma and can become certified in a chosen career path. 
CGTC's AED also offers high school equivalency (HSE) test preparation and designated HSE classes at no cost. English Literacy and Civics programs, in addition to other methods for adults to springboard into credit courses at the College, are also available.
Learn more about the Adult Education Division at CGTC by visiting, https://www.centralgatech.edu/adult-education.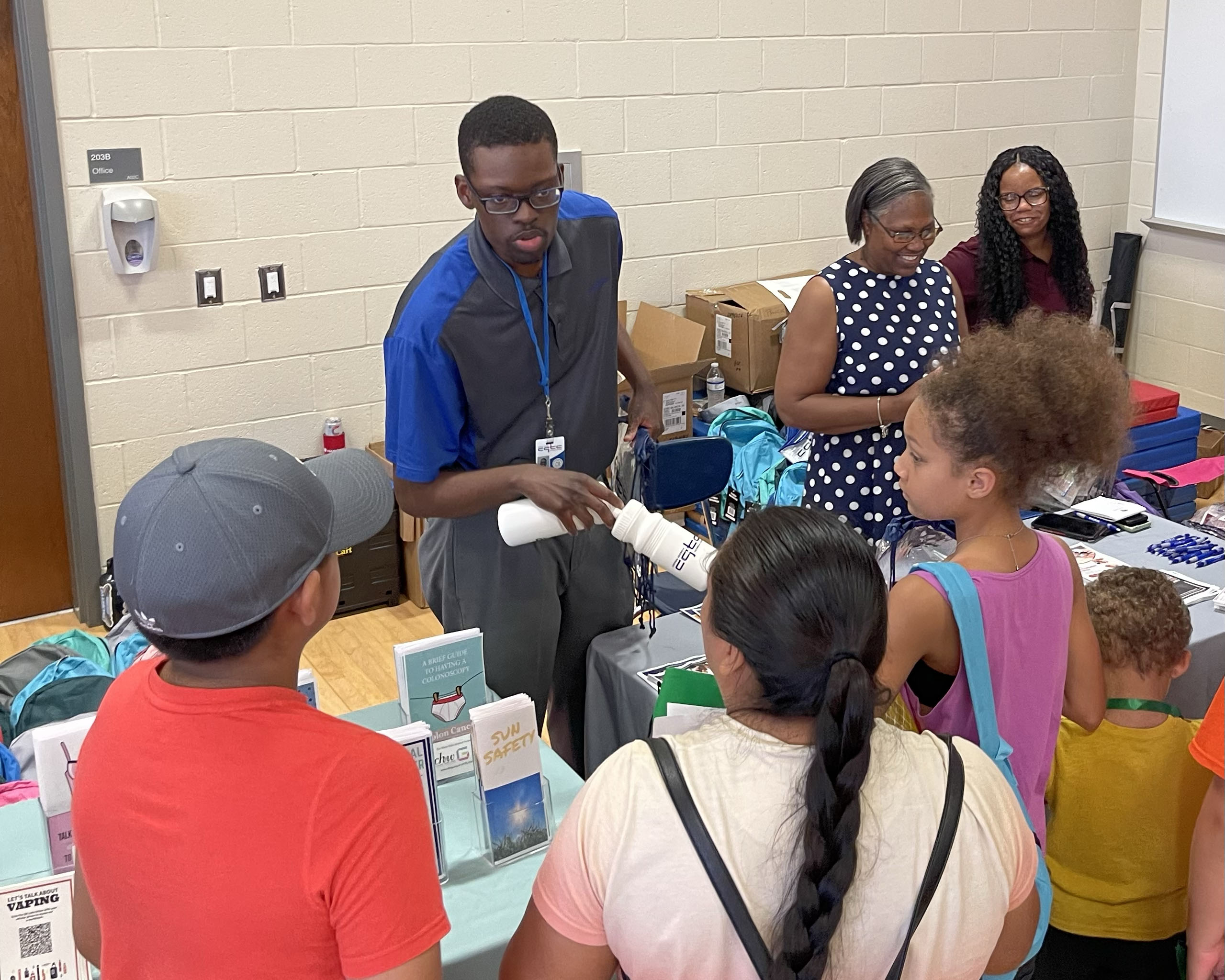 PHOTO: Adult Education staff at CGTC shares with a family at a local community event about the Division's programs.