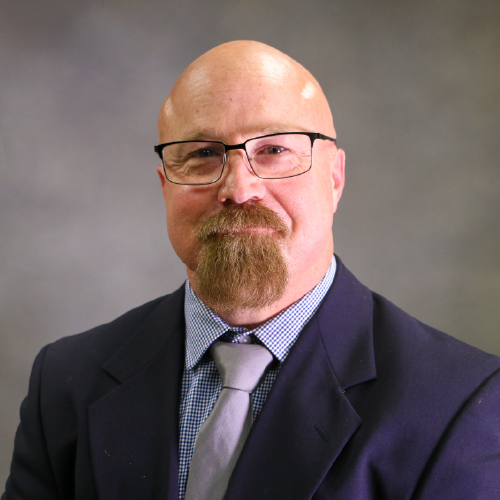 Warner Robins, Ga. – Precision Machining and Manufacturing program chair Scott Selph was recently named Central Georgia Technical College's (CGTC) Rick Perkins Award (RPA) Winner for Excellence in Technical Instruction for 2023. Selph, who also serves as a division chair in the Aerospace, Trade, and Industry division of the College, was selected as the College's Instructor of the Year through a multi-step interview process after being nominated by his peers for the award. 
Selph is a Cochran-Bleckley County resident and graduated from Macon Technical College in 1990. This began a career trajectory of 33 years connected to technical education and its mission. In the 2010s, he joined the College as an adjunct instructor and in 2013 became full-time program chair. 
"My number one goal every day is to be the teacher I needed when I was in school," he said. "It is not just giving the information to the students but engaging with them and finding out what makes each lesson click. Every one of them learns differently, and it is my responsibility to find out what that way is and apply it." 
Selph said he feels like the panel that selected him as the RPA winner could see his passion for students and technical education, a passion that is shared with students regularly when it comes to the benefits of the program. 
Precision Machining and Manufacturing, available at the Macon or Warner Robins Campus, provides an exciting and valuable career, according to Selph. Starting points are available in all three semesters, and he said, "it's always a great time to start this program."  
"I genuinely believe in our mission here at CGTC and let my excitement and passion show. Since becoming a division head, my eyes have been opened to the college's bigger picture and global scope. Students should know, no matter their age, background, or economic standing, they have a path at CGTC."  
Outside of work, Selph is the chairman of trustees at his church. He also coaches t-ball and football in his community. He might also be seen rocking out in several bands or getting a workout five days a week as a fitness enthusiast.  
CGTC instructors are nominated by their peers for RPA and then sit through various interview panels to select the winner from a group of five finalists.  Finalists for the 2022 award were Jaqueline Farms, Computer Information System, Deryk Stoops, Electronics Technology, Eli Walker, Computer Skills, Jolie Martin, Cosmetology.   
Along with seven other regional finalists, Selph will move on to the central region Rick Perkins Award for Excellence competition hosted at the CGTC Warner Robins campus in March. The 14 other RPA winners from technical colleges across Georgia will compete in north and south regional competitions, where three finalists from each region will be selected to compete in April for the title of State RPA winner.  
About CGTC 
Central Georgia Technical College, a unit of the Technical College System of Georgia, offers credit instruction, adult education, and customized business and industry training through traditional and distance education delivery designed to promote community and workforce development. The College is accredited by the Southern Association of Colleges and Schools to award associate degrees and many programs hold industry-specific accreditations, licensure, and approvals from various state and national agencies. Campuses are located in Warner Robins, Macon, and Milledgeville, with six educational centers throughout the region, including the GA VECTR Center in Warner Robins. As one of the largest two-year colleges in the state, CGTC leads Georgia's technical colleges in graduates and awards conferred. 
About the Rick Perkins Award  
The Rick Perkins Award for Excellence in Technical Instruction honors the Technical College System of Georgia's most outstanding instructors. The award has been an ongoing statewide event since 1991 and is designed to recognize technical college instructors who make significant contributions to technical education through innovation and leadership in their fields. Formerly known as the Commissioner's Award of Excellence, the award was renamed in honor and memory of Thomas "Rick" Perkins, an instructor at West Georgia Technical College, formerly known as West Central Technical College, who received the Commissioner's Award of Excellence prior to his untimely death. The Technical College System of Georgia provides oversight for the Rick Perkins Award program through the system's office and the state planning committee.  
Photo: Scott Selph, CGTC 2023 RPA Winner.