Macon, Ga. – Students in the Raising Expectations of Achievement (REACH) organization will have a unique opportunity to hear how one college president in Georgia made it to his position; Dr. Kirk Nooks of Gordon State College.
Dr. Nooks will present a session titled, "The Road to the Presidency", on Tuesday, December 4 from 12:30 to 1:30 p.m. on the Macon campus, Building I-Quad C. He will share information about his more than20 years in education.
Dr. Nooks will present Tuesday, December 4 from 12:30 to 1:30 p.m. on the Macon campus, Building I, Quad C.
Dr. Nooks was appointed to serve as the President of Gordon State College effective June 1, 2018. Prior to assuming these responsibilities, Dr. Nooks previously served as a college president and in various senior administrator roles for over 10 years. He began his career as a former campus dean, dean of Student Services, and project manager. Dr. Nooks brings a blended set of skills and over 20 years of education and engineering experience. On a national level, he has served as the Dean of the Presidents' Round Table's Thomas Lakin Institute for Mentored Leadership.
More information on Dr. Nooks is available here: http://www.gordonstate.edu/president/presidents-biography.html
The REACH program provides an opportunity for faculty mentors to build a relationship with students and act as a guide for them through their college experience. REACH students – typically African American males between the ages of 18 to 24 entering college for the first time – meet twice monthly for lunch and valuable messages from community guest speakers on a variety of topics including professional image, self-confidence, study skills, and time management.
While originally designed for African American males, the program has recently opened to every demographic. The closing session presentation is open to all students, faculty, and staff.
For more information contact, Rolandria Tolbert at rtolbert@centralgatech.edu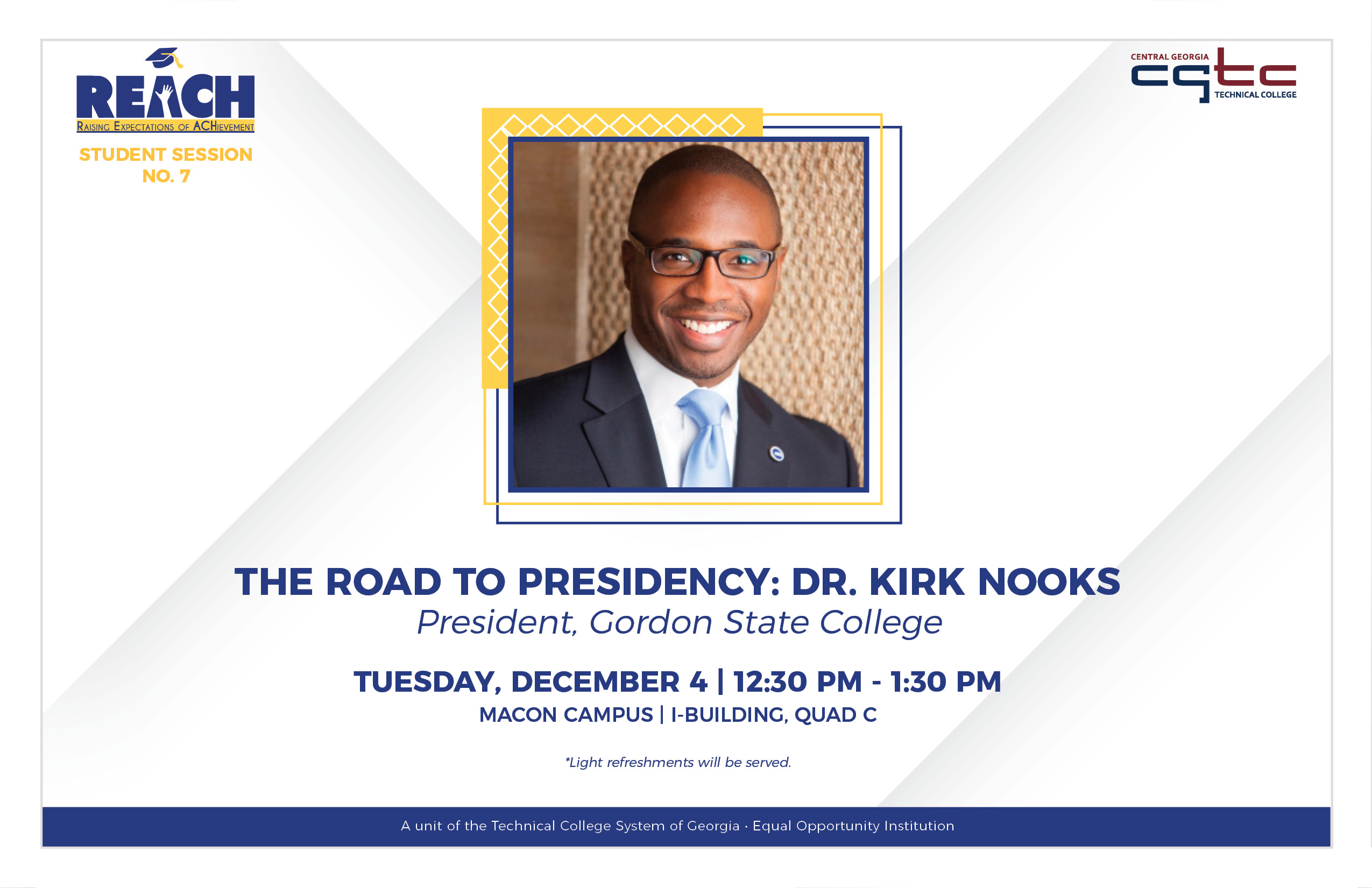 Photo: Flyer of upcoming REACH Session including a photo of Dr. Nooks of Gordon State College.