Warner Robins, Ga. – Military Friendly® just announced its 2020 Top Ten Schools, and in the category of Large Community Colleges nationwide, Central Georgia Technical College (CGTC) ranks No. 7, the only Georgia institution in the category.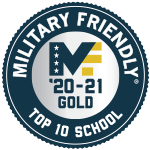 CGTC's premier position in service to the country's military and veteran population is largely a result of its operation of the Georgia Veterans Education Career Transition Resource (VECTR) Center. In fact, Military Friendly® highlighted the Center's unique, dedicated, veteran's facility, helping the College exceed the rankings' standards by more than 50 percent for the Culture and Commitment category.
The publication also suggested military and veteran students attend the College due to the VECTR Center's abundance of resources, programs and financial assistance options. The College's overall environment conducive to learning was also mentioned.
The chief operating officer for VECTR, Ret. Col. Patricia Ross, noted that the College and the VECTR Center are proud of the ranking and are passionate about their commitment to the military, its veterans and their families. She said the VECTR Center works hard every day to establish new partnerships, new funding avenues, and programs that will benefit both the students' futures and the state's economy.
Now in its 10th year, the Military Friendly® Schools list has come to set the standard for higher education institutions to provide the best opportunities for veterans and their spouses. This prestigious list provides a comprehensive guide for veterans and their families using data sources from federal agencies and proprietary survey information from participating organizations.
Institutions earning the Military Friendly® School designation were evaluated using both public data sources and responses from a proprietary survey completed by the school. More than 1,000 schools participated in the 2020-2021 survey, with 625 schools earning the designation from every state in the country. The 2020-2021 Military Friendly® Schools list will be published in the May issue of G.I. Jobs magazine. The list can also be found at www.militaryfriendly.com.
Methodology, criteria, and weightings were determined by VIQTORY with input from the Military Friendly® Advisory Council of independent leaders in the higher education and military recruitment community.
#