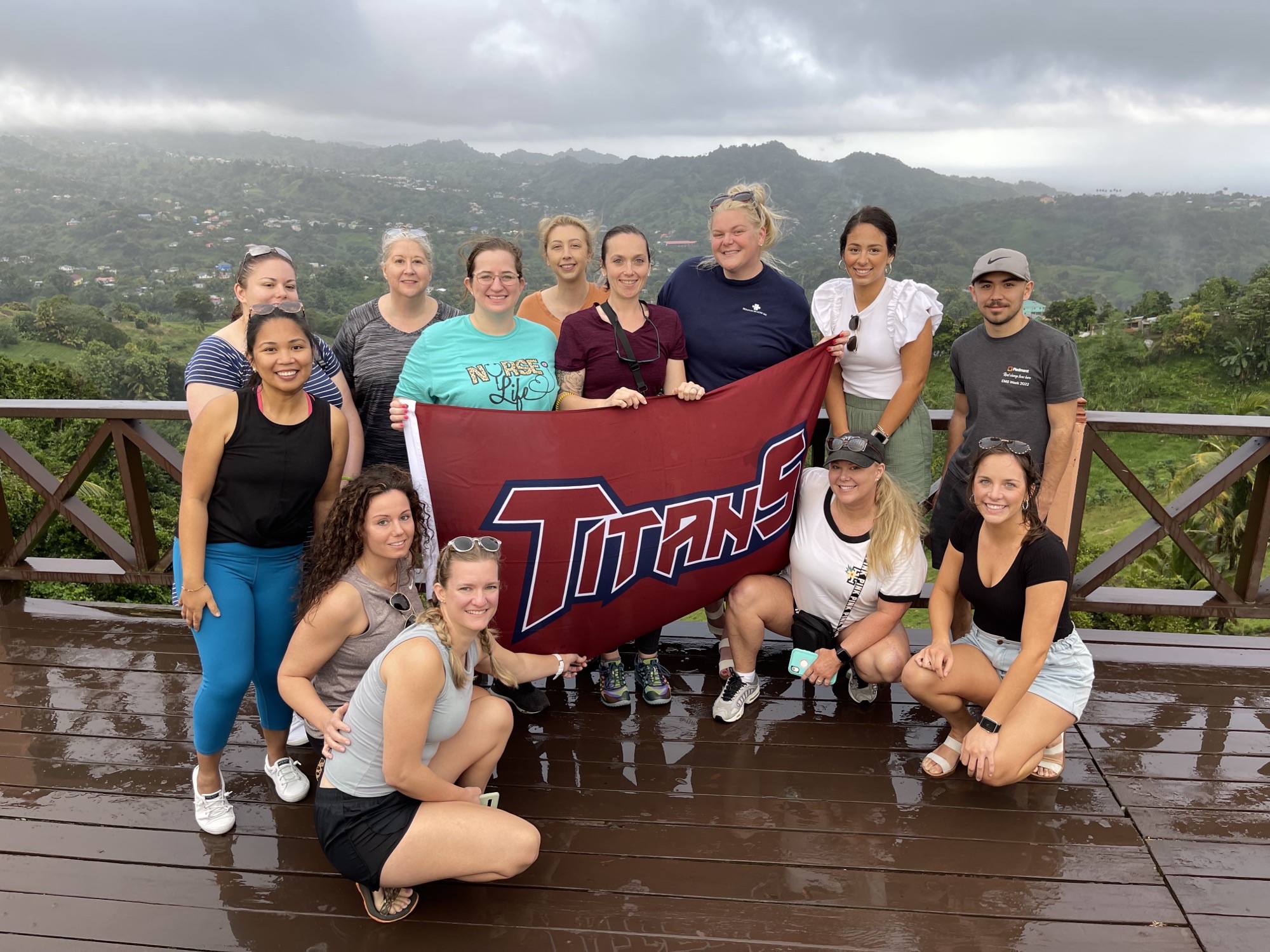 Warner Robins, Ga. – For healthcare students and faculty in Central Georgia Technical College's (CGTC) first service-learning, technical-focused study abroad program to St. Vincent and the Grenadines in January, every turn around a mountain or look outside a window offered an incredible view of the Caribbean paradise.  
Picture the clear blue-green water crashing against the beaches and boats of hardworking Vincentians or the hazy sunsets across a lagoon to historic Fort Duvernette and the cascades of palms and plantain trees filling the island's fertile, volcanic valleys. Any other study abroad program would have welcomed these images and displays of culture as enough, but in addition to these spectacular views, the students and staff in this program left inspired more by the impressions left on them by healthcare professionals on the island and moments of service using skills their program afforded them.  
"You know it's one thing to have a study abroad program in a place as beautiful as St. Vincent and the Grenadines; the country and culture alone offer so much to study and learn from," said CGTC Director of Nursing, Jessica Willcox. "But I think more than anything, giving our students an experience where they can volunteer their skills, learn alongside the islands professionals, and open their minds and hearts is innovative and life-changing." 
The 2023 Health Sciences Study Abroad in St. Vincent and the Grenadines is a first-of-its kind program for the CGTC Office of Global Initiatives. Development of this innovative program began in 2022 alongside the CGTC Division of Health Sciences and Trinity School of Medicine.  
Health Sciences curriculum regularly requires students to engage in volunteer healthcare as a response to community challenges. It was a logical fit to create outlets for this service addressing areas of need in St. Vincent and the Grenadines. Dental Hygiene, Paramedicine, and Registered Nursing students attended the service-learning trip.
Under this format, the coursework emphasized learning opportunities and outcomes that provide a global competency framework for students to gain international cultural perspectives alongside professionals on the island and strengthen a partnership with Trinity that mutually benefits interprofessional development between healthcare disciplines that improve patient outcomes.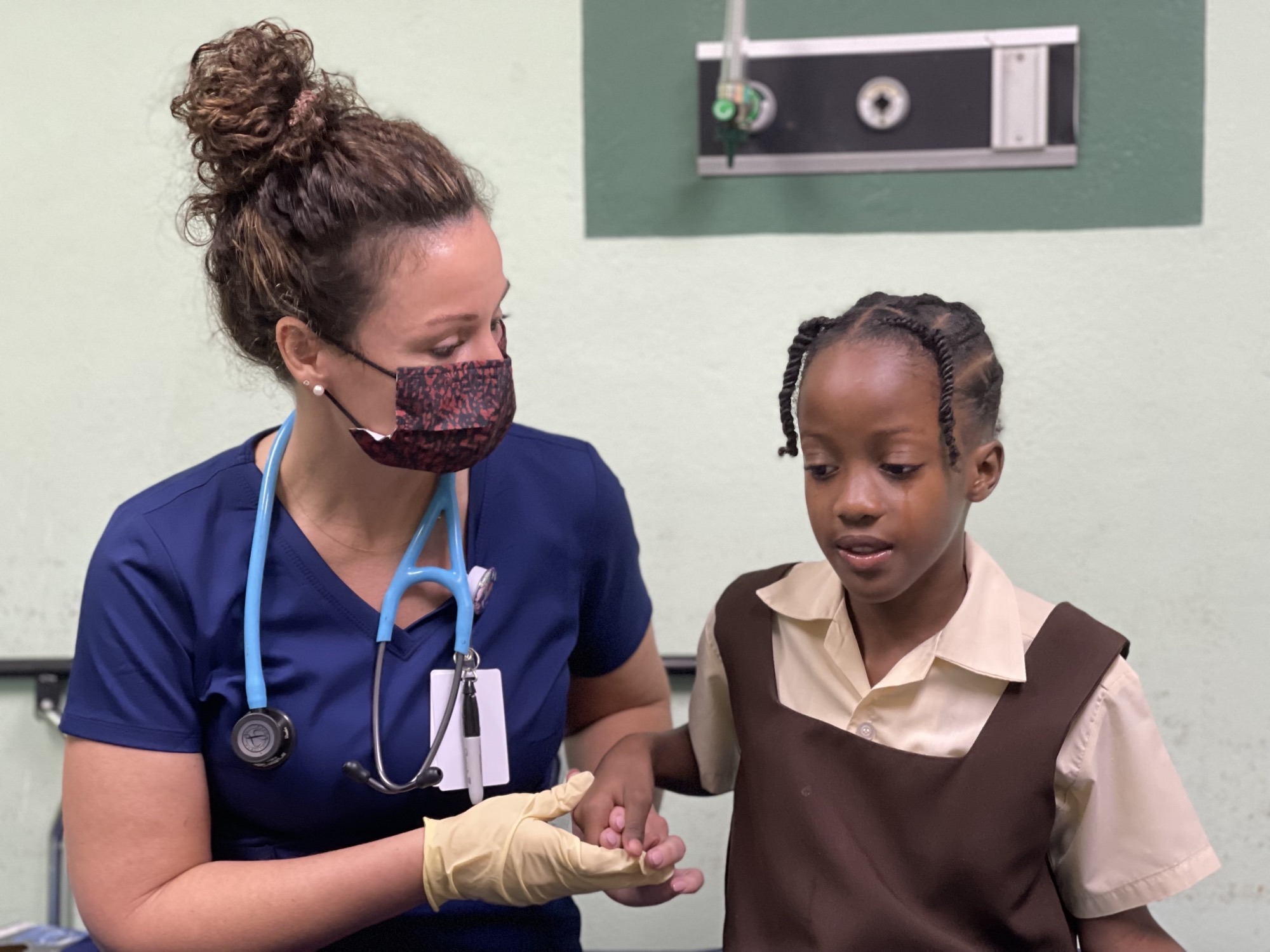 "We saw many things we haven't experienced before in healthcare and culture," said, Hilary Bretz, a Nursing student who, as the spouse of active-duty military member, received the College's first Gilman-McCain Scholarship from the U.S. State Department for study abroad. "Studying abroad is a great opportunity to see things you have never seen. I feel like I would have never gotten the opportunity to visit St. Vincent if it wasn't for CGTC, and it's been really cool." 
From day one students and staff took to the mission the program, waking up well before the sun to serve in community clinics and wards at Milton Cato Memorial Hospital in the capital, Kingstown. They also led training classes for phlebotomy and life-support alongside St. Vincent and the Grenadines Community College (SVGCC), supported and coordinated through Trinity School of Medicine.   
A first-hand look at a different country's healthcare system is an experience that their instructors had no textbook to teach them back home. But even in that uniqueness, many students noted the comparisons and contrasts of patient care environments in relation to middle Georgia and American communities, even the most unnerving ones. 
"It is very windy, very fast," said Stephanie Jackson, a Paramedicine student speaking about her ride in a Vincentian ambulance vehicle to respond to an accident. "It was a little nerve-wracking. You kind of have to brace yourself (to give care). It was definitely an experience."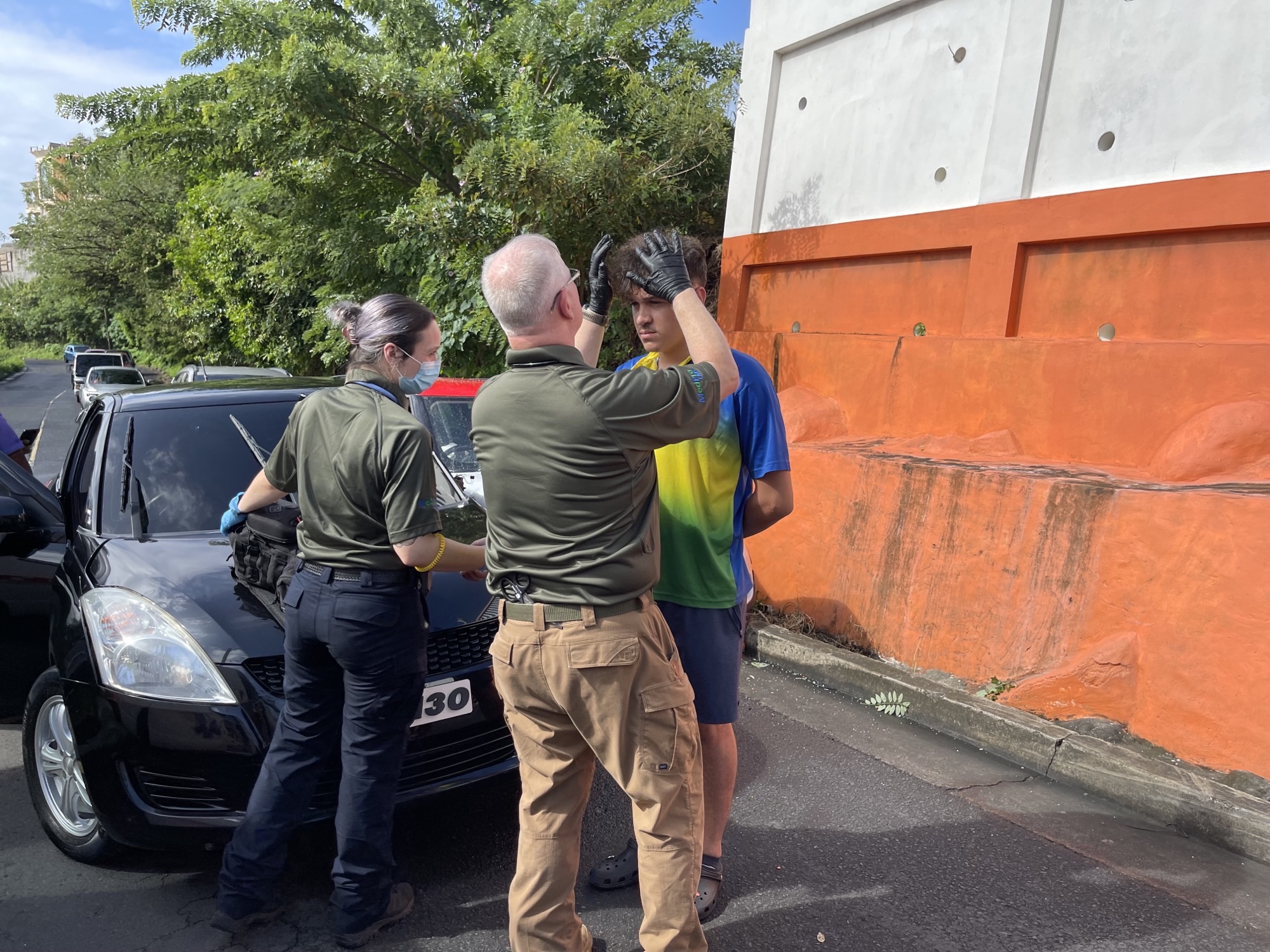 Generally, ambulance vehicles, when available, vary in response times and onboard staff operation. Transit in the vehicles require passage through the island's one major highway, creating significant challenges in patient care. The Paramedicine program, led by Health Sciences instructor and division chair, Rick Ellis, spent time in discussion with SVGCC and the Milton Cato staff to look at sustainable ways to improve emergency medical services.   
Patient care experiences were unique for each program and often the best method for students to understand and offer their skills in these environments was to connect with staff. In the various wards of Milton Cato Hospital, it was not unusual to witness a nursing student gloved-up, side-by-side in care for a patient with the "sisters" (the term for nurses in St. Vincent), or a dental hygiene student learning to operate different equipment from a dental assistant. As the group shared, the knowledge gained in these moments was most impactful.  
"The dynamics of teamwork is different from back home to over here," said JanneLauren Torres "Here they seem like a big family. They all work together like it's a well-oiled machine. I loved it." 
Working together is the Vincentian way, and it proved effective on this trip. Engagement with island's dental services earned Dental Hygiene students and their program chair and instructor, Kelly Scruggs, a feature in a Vincentian news broadcast. Their work on the island, in addition to seeing patients, included time in local schools to teach students about oral hygiene.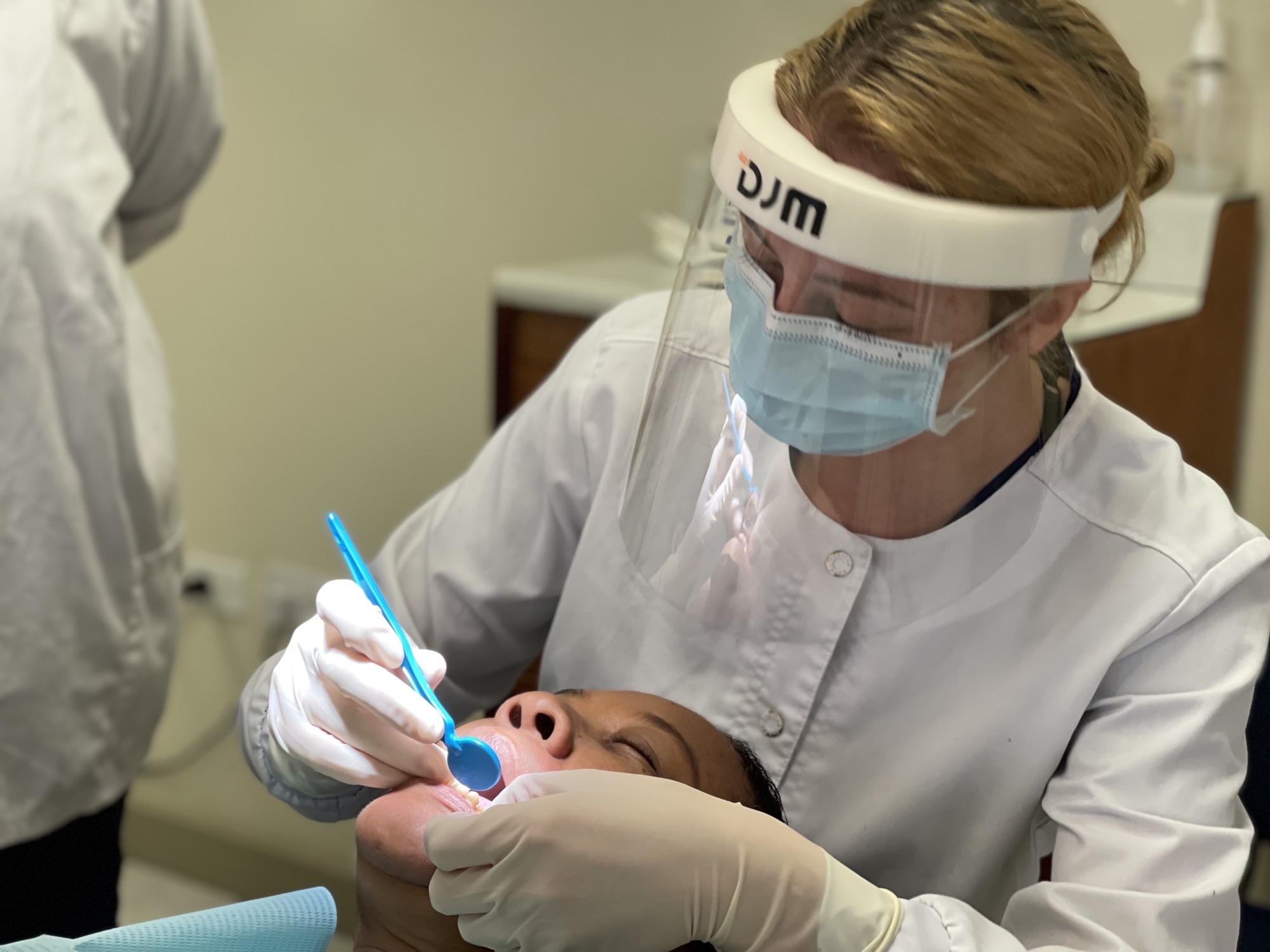 "The patients do know a lot," said Dental Hygiene student, Julia Hazlewood. "They floss! It is so rare to find people that floss." We loved the kids especially; they were just the sweetest things." 
Through the help of the CGTC Foundation and the Global Initiatives Scholarship Fund, more than half of the students received scholarship money to attend the trip. Generous donations by MedProEMS of Forsyth and Macon dentist, Dr. Shawn Scott, covered the cost for eight student flights.  
For part of the trip, a small group of CGTC Board of Directors and CGTC Foundation Board of Trustee members traveled down to witness the program and meet with delegations from SVGCC and Trinity, an image some on the island won't soon forget.  
"This is a lot. You know? Because if you brought persons from your board, its shows your dedication to the program that you are building," said Sister Herona Butte-Bleck, an instructor of Nursing at SVGCC. "We really want to work together with this reciprocal relationship so that everybody benefits; our communities and our countries." 
The CGTC Office of Global Initiatives looks forward to a continued partnership with organizations on the island to benefit global healthcare sustainability and education for each community.  
Learn more about CGTC's Office of Global Initiatives at www.centralgatech.edu/global.  
WATCH: St. Vincent and the Grenadines Health Sciences Study Abroad