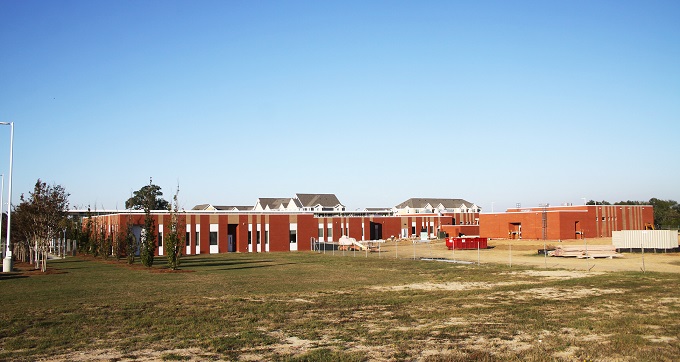 Warner Robins, Ga. – The long-term commitment to veterans never wavers for the Georgia Veterans Education Career Transition Resource (VECTR) Center, and soon the completion of its building expansion will extend new career training opportunities their way.
Central Georgia Technical College (CGTC), the administrative unit for the VECTR Center, has announced that construction has progressed according to schedule and is slated to be complete in December.
Construction began in June for two industrial lab spaces attached to the current building's east-end and one mixed use building adjacent to the Commercial Truck Driving (CTD) pad to the south of the Center. Approximately 11,000 square feet for both buildings will allow the Center to house more classroom, office, and lab space for CTD, but also new programs.
The two new industrial lab spaces will house the Electrical Construction Lab, a program that recently received a grant from one of Georgia's most-noted foundations.
In September, The Arthur M. Blank Family Foundation's Overwatch Fund announced a $100,000 grant to the VECTR Center to create veteran employment opportunities to accompany the expansion.
More grant funding, including $100,000 divided bi-annually from Bloomberg Philanthropies in 2018 and 2019, is helping expand Warehouse and Logistics programs.
The Center is also looking to develop Industrial Systems program offerings in the facility, researching grant opportunities and identifying strategic industry partners eager to help veterans.
The chief operating officer for VECTR, Ret. Col. Patricia Ross, said inquiring for resources and putting them under one efficient roof is, "the least we can do for our military and veterans", adding that it "simply makes our region and state stronger by taking these incredibly talented and dedicated men and women and transitioning them into great Georgia jobs and careers."
"As the only Center of its kind in the nation, we are providing our military who have selflessly served our nation, an opportunity for something more," said Ross.
"Discovering a new career, earning college credit, technical certificates, working with partner employers on guaranteed interviews, and the opportunity to earn a household sustaining wage are part of what they can accomplish here, while simultaneously helping to fill Georgia's workforce gaps."
The Georgia VECTR Center and CGTC plan for an official opening of the expansion later this Winter.
For more information about VECTR, visit www.gavectr.org.
About the Georgia VECTR Center
Since it's opening in August of 2016, the VECTR Center has served over 39,000 veterans, service members, and their families through educational coaching, career counseling, community resource assistance, resume assistance, and workforce training. In 2017, the Center came under the administration of the Technical College System of Georgia (TCSG) through Central Georgia Technical College.
The VECTR Center's one-stop-shop model has garnered interest from delegations from the states of Kentucky, Tennessee, and most recently, North Carolina. VECTR received the 2016 Innovation Award from the University System of Georgia and the Good Government Service Award from the 2016 Robins Regional Chamber of Commerce.
Attachment: Progress on the expansion to approximately 11,000 square feet of additional classroom, office and lab space at the Georgia VECTR Center is on schedule and nears completion this December.
 #