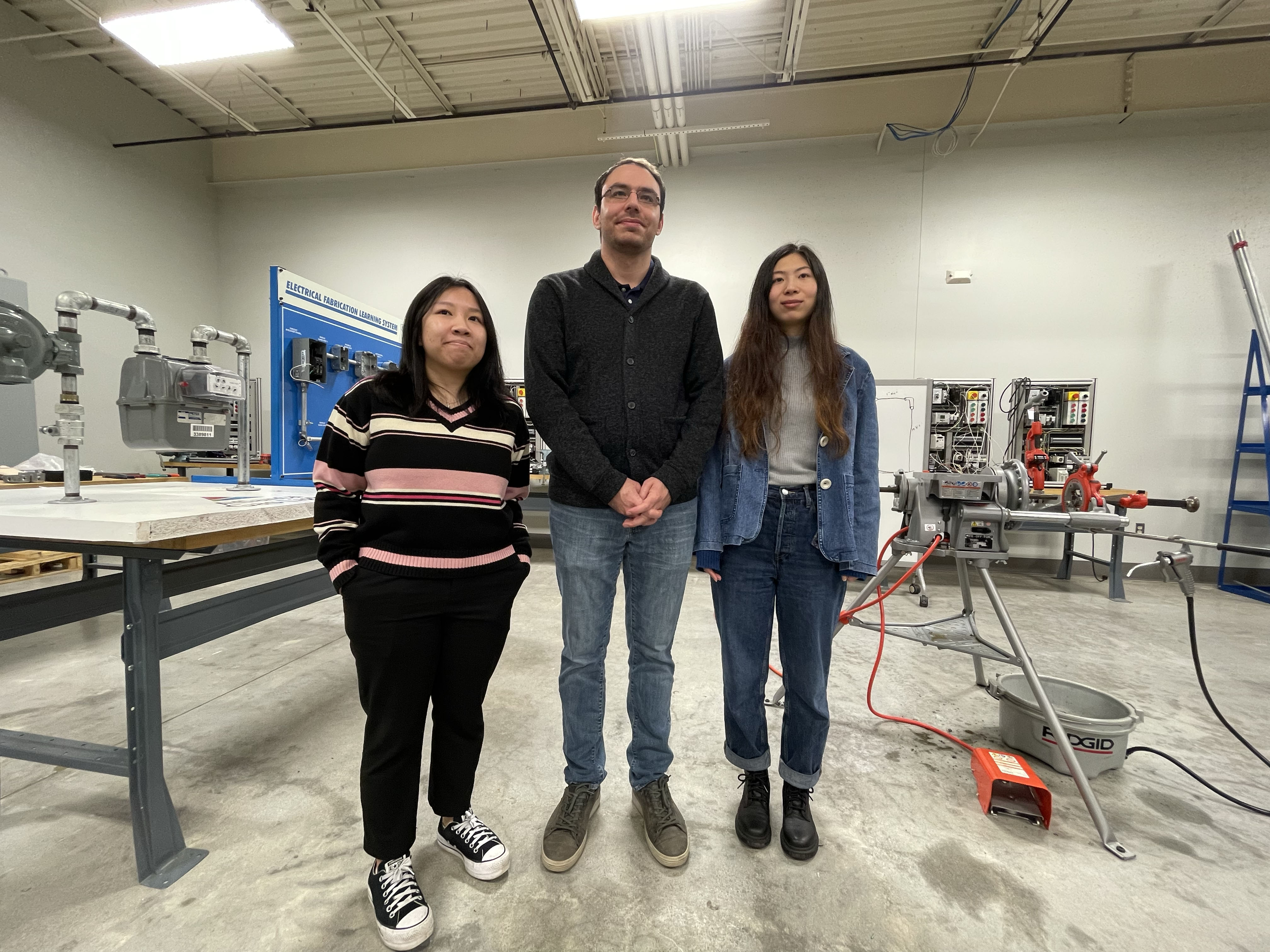 Macon, Ga. – Three graduate students from the Georgia Institute of Technology (GT) continue work this semester with instructors in the Aerospace, Trade, and Industry Division of Central Georgia Technical College (CGTC) to develop virtual reality training for labs of advanced manufacturing.
Irene Ong, Ruolin Yang, and Kyle Leinart are all second-year students working on their thesis project in the Human and Computer Interaction program at GT. Virtual Reality was already their collective interest, but as a topic, it fit perfectly with the information they received that the College had new Oculus headsets, but no real idea of how to implement them in classroom and lab environments.
"We knew we wanted to work on virtual reality and the topic of educational technology problem spaces," Leinart said, "It's something we thought maybe we could help with, something we could carve out for the school to use."
The team explained that problem spaces are essentially areas of need for technology to be used effectively in organizations or industries, yet the growth and popularity of virtual reality have not "touched" educational technology spaces as a possible solution. Through their initial conversations with CGTC faculty, they learned right away where they could help. CGTC instructors knew this was an area for growth and working together just made sense.
"They have been such a great team to work with," said Scott Selph, CGTC's Precision Machining and Manufacturing program chair and Rick Perkins Award (RPA) Winner for Excellence in Technical Instruction for 2023. "VR Technology is new for us as instructors, but they are making it helpful so it can one day benefit students in the lab. They are taking our advice and learning about all the training we do to prepare students for jobs in the industry."
The use of virtual reality, as they explained, can be two-fold—a fun interactive recruitment tool for the College and a resource for instruction in a classroom.
"Our goal is to figure out how to build instruction models in this subject matter that work for programs," Ong said.
The GT researchers said they want to make something that does not just sit on a shelf. So, what exactly are they building? They are replicating lab spaces into a virtual environment where students and instructors can wear a headset and be right in the lab or working on a machine. As they demonstrated, students can enter a virtual lab space, developed in collaboration with their instructors, that looks and feels like equipment and tools in the industry. Real-life context is of utmost importance to the team and CGTC instructors.
Where this is of particular interest is how VR models are flexible and fluid. A lab can take months or expensive orders of equipment to reflect current industry environments, but a VR space or piece of virtual equipment can update much quicker and create a more authentic "industry floor" environment. Even something as small as the loud sounds of an industrial lab can be replicated and introduced to students for their learning.
"Thinking about sustainability, this also potentially points CGTC to different directions (with VR) that they can explore in the future," said Yang, agreeing with her classmates that they want VR to be more than a fun gimmick, or a resource that is used casually. "While our focus is mainly on that traditional student, there are ways in the future to take this to all the student groups CGTC has, including dual enrollment and adult education."
A future that embraces technology is critical for the College, the Aerospace, Trade, and Industry Division, and its programs. Collaboration is another step in continuing the workforce development mission for the College and assuring students their education and training are adapting to changing industry practices.
Ong, Yang, and Leinart will graduate from Georgia Tech in May and will continue to be on the CGTC campus weekly in the Charles H. Jones Advanced Manufacturing Technology Center on the College's Macon campus working on the project until the semester ends.
For more information about programs in the Aerospace, Trade, & Industry Division, visit https://www.centralgatech.edu/programs-of-study/aerospace-trade-industry.