Warner Robins, Ga. – Student nurses at Central Georgia Technical College (CGTC) put their final hours of clinicals behind them last week, and now look ahead to graduation as the College's first Associate of Science in Nursing (ASN) degree cohort.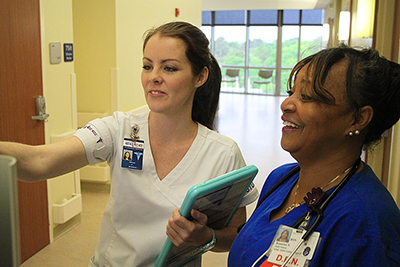 "We all learned a lot through this, and we maintain high hopes that each of these students will continue on to be the great nurses we know they are," said program chair, Jessica Willcox, whom the College hired in 2014 along with a small group of instructors to see the Registered Nursing (RN) program hit the ground.
After all the preparation, instruction, and now realization of student accomplishments, Willcox said she feels bittersweet that their first cohort is moving on but excited for each of their futures.
"Their hospitals, clinical facilities all speak positively about their performance, and we are pleased that many of them will be staying around this area to work and serve the community here. This program has produced the first of what will be many competent graduates who are ready to fill the area's nursing workforce needs," Willcox said.
Several of these students have obtained jobs with Houston Healthcare, Coliseum Health System and Navicent Health among various other local facilities, many of which they performed clinical hours for.
In 2016, initial board approval was given to the College to start the program. The program officially enrolled its first students in January 2017. Its second cohort began this year.
The 25 students who make up the competitive program's initial cohort include: Zenaida Casey, Mandi Civils, Jessica Clem, Michele Collins, Alma Duvall, Jessie Faulks, Gabriela Gaspar, Teresa Hagy, Karen Harper, Lorraine Hortman, Autumn Jones, Chanda Jones-Hunter, Rebeccah Kamau, Christina Lamb, Heather Mitchum, Amy Nicholson, John Pate, Michelle Peterson, Andrew Rader, Bernessa Rawls-Baker, Tonya Spivey, Chasen Stewart, Tiffany Swint, Lacey Walker, and Crystal Zunino.

[Video Description] Multiple student nurses interact with professional nurses in a hospital setting as they complete clinical practice. They navigate hospital floors, add charts on computers, locate medication and converse with each other.