Macon, Ga. – Continuing in its tradition of fall fundraisers for community organizations, the Central Georgia Technical College (CGTC) Cosmetology program is putting together a yard sale benefitting Macon's Homeport Veterans Transition Home. The event is October 6, 2018, from 9 a.m. to 12 p.m. at the home.
The yard sale is the main draw of multiple fundraisers that will include a bake sale, car wash, and hot dog sale. A military boot seeking a donation from campus faculty, staff and students will also make its rounds on campus throughout the month of October.
Last fall, the program hosted similar activities throughout the Colleges' three main campuses and a yard sale in Milledgeville, raising $3,386.00 in support of the Georgia War Veteran's Home in Milledgeville. The program raised more than $23,000 for local charities and organizations in the last seven years.
Program chair Jolie Martin and instructor Leslie Davenport led the decision to raise support for Homeport. Each of them felt inspired to increase awareness and encourage support of the homelessness concerns for local veterans.
"Over the last seven years, our students have demonstrated such a positive commitment to giving back in our community," said Davenport. "More than ever, we recognize the issues of homelessness for our local veterans and the entire program is ready to help."
The program welcomes the public's participation in the fundraiser. Donations of items to be sold by the program can be dropped off in the College's Macon campus cosmetology lab in Building B, Room 217 at 3300 Macon Tech Dr., Macon, Ga. 31206. Monetary donations can also be made to the program or Homeport directly. Volunteer opportunities are welcome.
For more information, contact Leslie Davenport at ldavenport@centralgatech.edu or 478-757-3485.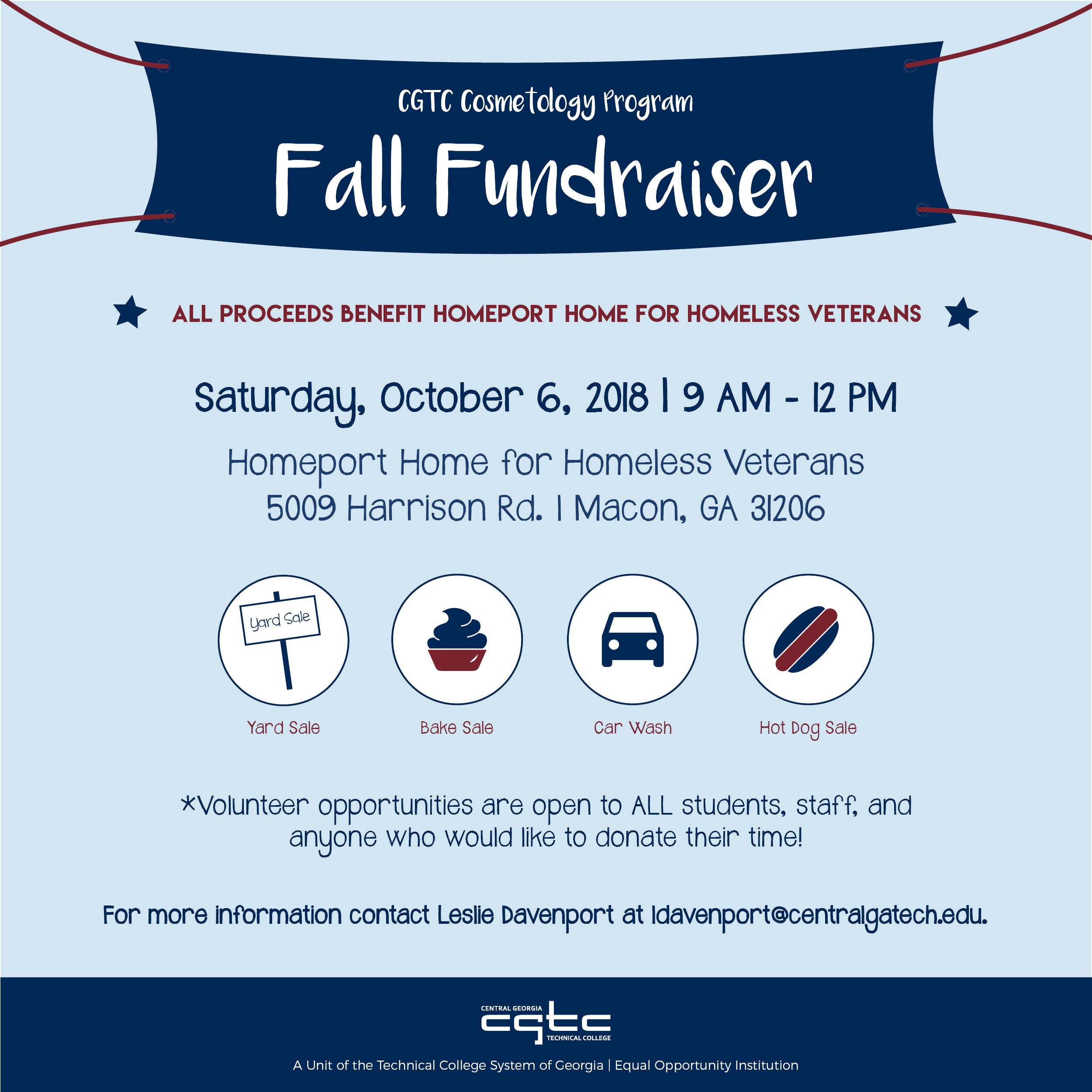 Photo: Graphic advertisement for the yard sale fundraiser.