Warner Robins, Ga. – A delegation of officials from Guangzhou, China recently visited Central Georgia Technical College (CGTC), signing an agreement that is likely to springboard the implementation of occupational programs for Guangzhou Information Engineering Vocational School (GIEVS).
"They are particularly interested in our work with the two, area high school career academies with whom we collaborate closely," said Rick Hutto, the executive director of Global Initiatives at CGTC. "We officially signed a memorandum of understanding that will allow CGTC to share Occupational Qualification Standards of Information Technology, and to mentor our Chinese colleagues by helping to implement a similar program in Guangzhou."
GIEVS extended an invite to CGTC to visit their campuses in Guangzhou in order to benefit from the methods by which they can learn from each other and by sharing best practices in technical and vocational education.
Per the agreement, CGTC will recognize and work with GIEVS in trial projects of identification of occupational qualification standards relative to each schools' conditions. GIEVS will begin to integrate trial projects into its curriculum.
During the delegation's visit, they toured the College's Macon and Warner Robins campuses and met with key leadership including, Dr. Amy Holloway, vice president of Academic Affairs, and Jeff Scruggs, the executive vice president of CGTC.
This current signing comes off the heels of Dr. Holloway's visit to Guangzhou in 2017.
During a week-long visit, Dr. Holloway signed several memoranda of agreement for continued educational partnerships with GIEVS, South China Institute for Software Engineering, Guangzhou University, Guangzhou Pharmaceutical Vocational School, and the GAIA Blue Butterfly Group, an early childhood education institution.
That trip marked the beginning of the partnerships that aim to bring Chinese students and faculty for immersion study to the College, and send CGTC faculty, as well as the delivery of educational content through telepresence.
These partnerships were made possible through the advocacy of Steve Farr, who served as the American advisor to Guangzhou University, as well as the Principal of the Blue Butterfly International Institute and Charity.
For more information about CGTC's partnership with these Chinese institutions, contact Rick Hutto at rhutto@centralgatech.edu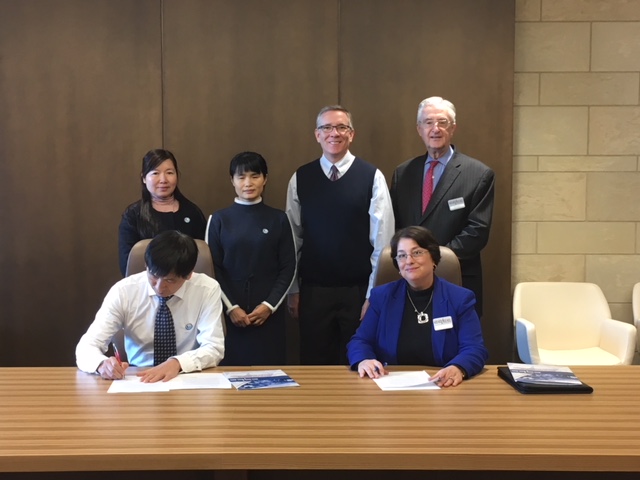 [Photo] CGTC leadership join officials from Guangzhou Information Engineering Vocational School as they sign an agreement for mentoring in the implementation of occupational programs in the southern Chinese region.