From Leadership Macon
Macon, Ga. – The newest class of Leadership Macon, a program of the Greater Macon Chamber of Commerce, hosted a groundbreaking ceremony on December 18 to welcome construction of the Leadership Macon 2017 Fitness Circuit at Amerson Park. The Circuit will introduce eight pieces of gym-quality equipment from Greenfields Outdoor Fitness, which can serve up to 23 people at once, along the park's walking trail.
As a member and participating partner with the Greater Macon Chamber, CGTC supports Leadership Macon by supplying qualified candidates for the program and by supporting various projects through sponsorships.
"Leadership Macon is a signature program of the Chamber that, each year, brings together a diverse group of leaders from across the community to not only learn more about Macon-Bibb County but to develop a project that can benefit the area. I am delighted that this year's class has chosen a project that reinforces what a wonderful place Macon is to live, work and play," said Mike Dyer, Greater Macon Chamber of Commerce President and CEO.
Deborah Josey Burks, vice president of Institutional Effectiveness at CGTC, represents the College in the Leadership Macon Class of 2017.
"Participating in the Leadership Macon Class of 2017 was a great opportunity for me to learn about various aspects of the area that either proves to limit growth potential or improve the economic stability of the region," she said.
Burks added that Leadership Macon Class of 2017 has chosen to assist in the effort to combat the rise in community obesity and decline in overall health by placing a Fitness Circuit at the Amerson River Park.
The Fitness Circuit will also enhance the Ocmulgee Heritage Trail and Amerson River Park. Leadership Macon worked alongside local public and private organizations, especially NewTown Macon and Macon-Bibb County, which have already invested in the area.
"The Ocmulgee Heritage Trail is already the region's most-used recreation amenity, and the new Fitness Circuit is a wonderful improvement. NewTown is grateful to Leadership Macon for moving the Trail forward," said Josh Rogers, NewTown Macon President, and CEO.
When construction is completed later this spring, the Leadership Macon 2017 Fitness Circuit at Amerson River Park will be a one-of-a-kind outdoor amenity in Macon, capable of serving a diverse range of users, including children, adults and even those with physical limitations.
The Fitness Circuit is being funded by generous local sponsors, and there are still sponsorship opportunities available. For more information about supporting this project, visit www.bit.ly/fitnesscircuit. To view renderings for the project, visit www.bit.ly/fcrenderings.
For more information, contact, Nadia Osman, Leadership Macon Class of 2017, (478) 361-1313 or nosman@maconchamber.com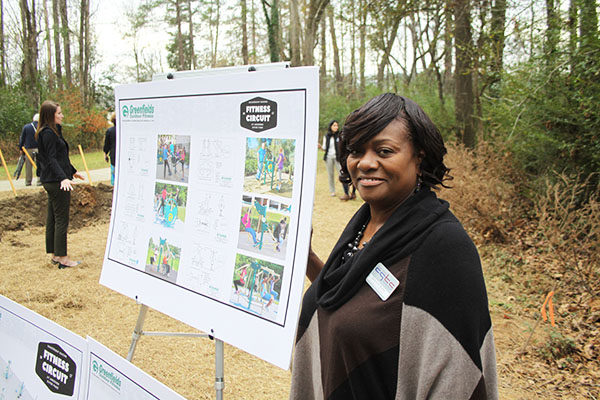 Deborah Burks, vice president for Institutional Effectiveness takes part in the groundbreaking as a member of the Leadership Macon 2017's Fitness Circuit for Amerson River Park.