Warner Robins, Ga. – Central Georgia Technical College (CGTC) signed an articulation agreement with Fort Valley State University (FVSU) this week for associate degree coursework, adding more transferability options as the College implements its newest degree program this fall.
CGTC's new Associate of Science (AS) degree in General Studies is mapped to the University System of Georgia's (USG) core curriculum to allow students the flexibility to transfer into multiple baccalaureate programs at a four-year college or university.
"This agreement provides an affordable pathway into a four-year degree by allowing students to complete their general education core with CGTC and to begin their major program of study for transfer into Fort Valley State University," said vice president of Academic Affairs, Dr. Amy Holloway. "We are excited to expand our existing partnership to provide this opportunity for our graduates to maximize their transfer options into a four-year degree at FVSU."
"Fort Valley State University looks forward to welcoming the well-prepared graduates of Central Georgia Technical College into the FVSU family," said Dr. Paul Jones, FVSU president. "We are confident that their growth into change-makers, innovators, thought leaders, and researchers will be empowered through their work with FVSU faculty and their engagement in our unique educational experience. We are committed to helping each student who becomes a Wildcat through this agreement to reach their true and unlimited potential."
The General Studies Associate of Science (AS) degree prepares students to pursue a four-year degree or for careers in multiple fields of studies. Graduates will develop academic and professional knowledge and skills necessary to succeed in the profession of their choice or to further their education.
The College will offer the General Studies program on each of the three main campuses. Guaranteed acceptance of the 60 program hours within the program is offered through FVSU only. The articulation agreement between the College and USG includes transferability for a majority of the courses into four-year institutions statewide.
For more information contact, Teresa Southern at southernt@fvsu.edu and  Dr. Amy Holloway of CGTC at aholloway@centralgatech.edu.
About Fort Valley State University
Founded in 1895, Fort Valley State University, a University System of Georgia institution, is one of the nation's most innovative and affordable academic institutions. Leveraging its unique role as Georgia's only 1890 land-grant institution, the college conducts more science, technology, engineering and math federal research than any other public teaching college in the state, making curriculum-enhancing research opportunities available to students learning to be leaders in innovation. The university's undergraduate and graduate traditional and online degree programs enroll almost 3,000 students from all over the world. FVSU students participate in more than 80 academic and civic organizations, honor societies and study abroad programs. The university is a member of the Southern Intercollegiate Athletic Conference and NCAA Division II League. Learn more by visiting www.FVSU.edu.
About Central Georgia Technical College
Central Georgia Technical College, a unit of the Technical College System of Georgia, offers credit instruction, adult education, and customized business and industry training through traditional and distance education delivery designed to promote community and workforce development.
The College is accredited by the Southern Association of Colleges and Schools to award associate degrees and many programs hold industry-specific accreditations, licensure, and approvals from various state and national agencies. CGTC, in the tradition of the individual Colleges, will continue to contribute to economic and workforce development in its eleven-county service area and throughout the State of Georgia.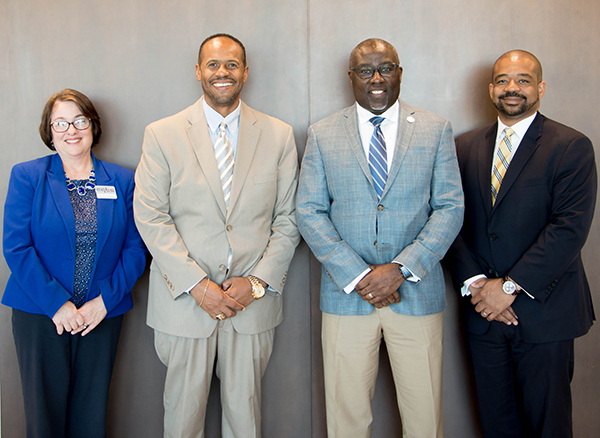 Photo: L to R: CGTC's vice president of Academic Affairs, Dr. Amy Holloway, joins, CGTC president, Dr. Ivan Allen, FVSU president, Dr. Paul Jones, and FVSU provost, Dr. T. Ramon Stuart, following the signing of the articulation agreement.