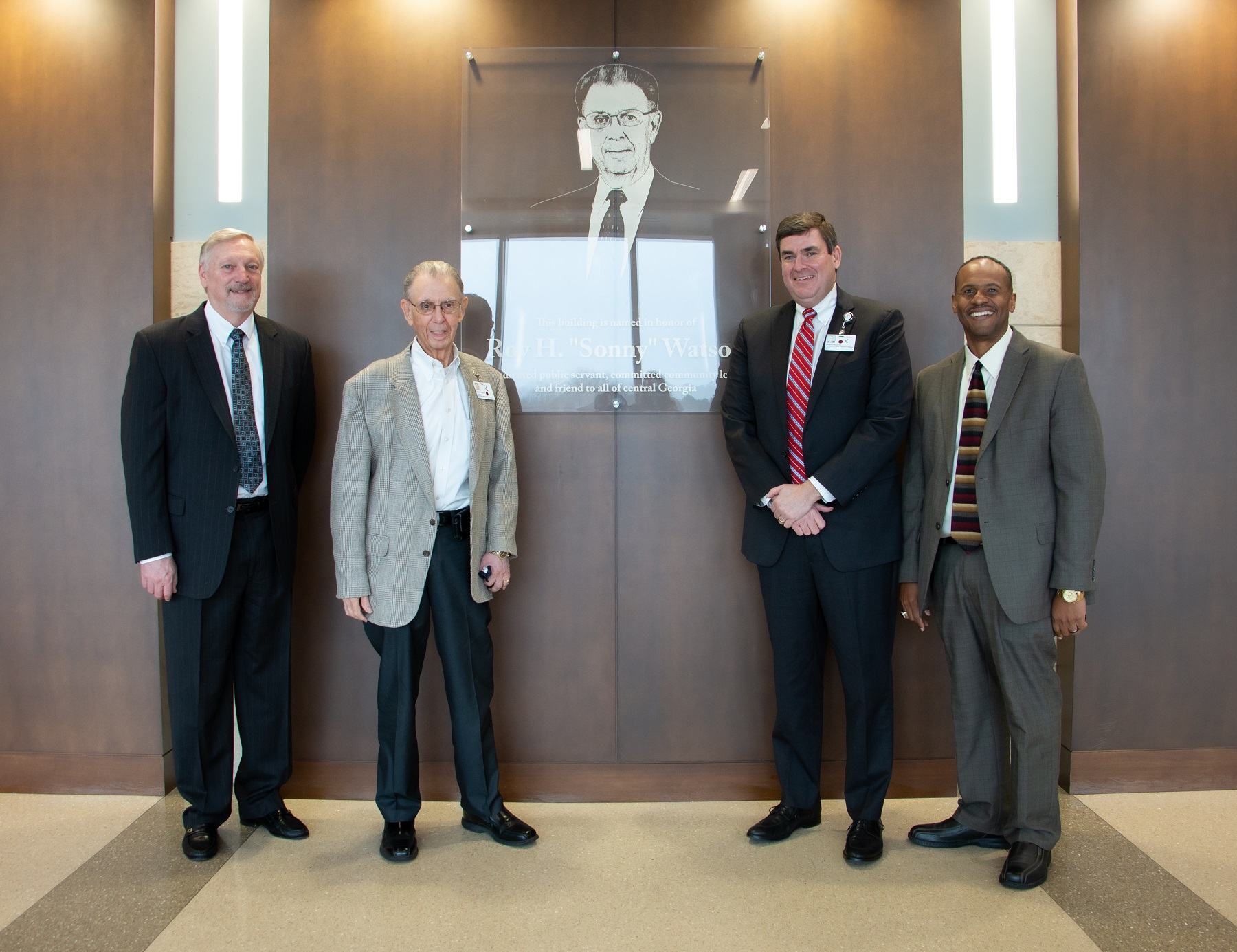 Warner Robins, Ga. – With an eye on positioning healthcare students for continued education with premier medical institutions, Central Georgia Technical College (CGTC) reached an agreement with Trinity Medical Sciences University to develop an infrastructure that will sustain the capacity of the two institutions to promote educational opportunities and to foster a lasting community partnership.
CGTC president, Dr. Ivan H. Allen, signed the agreement alongside Trinity president and CEO, Steven R. Wilson, inside the Roy H. "Sonny" Watson Health Sciences Building on CGTC's Warner Robins campus on Monday.
"We are looking forward to doing outstanding things in this community and in this state, and to support Trinity's mission to bring health services around the world," said Dr. Allen. 
Houston Healthcare president and CEO, Charles Briscoe, was also present for the signing, celebrating the partnership and welcoming its impact on the community.  
"What we do every day is take care of our community, take care of our citizens, and provide healthcare for them each and every day, so they can continue to improve their well-being," Briscoe said. "Without partners like CGTC and Trinity, we wouldn't be able to do that." 
Trinity Medical Sciences University's main campus is located in St. Vincent and the Grenadines. They also have a clerkship campus located in Baltimore, Maryland. Trinity's southeast campus in Warner Robins at the Houston Health Pavilion, located at 233 N. Houston Road, represents their latest expansion in the U.S.
Recognizing that educational opportunities can be enhanced by combining resources, CGTC and Trinity agreed to share resources to enhance opportunities to provide education and training that leads to employment in the health profession. As a part of this agreement, Trinity will utilize allocated space in CGTC's Watson Health Sciences Building for evening and weekend classes.
The institutions further agreed to consider articulation agreements to facilitate transition of students in specified health science programs between Central Georgia Technical College and Trinity School of Medicine.
These agreements are intended to eliminate duplication of courses, promote advanced placement into baccalaureate-level programs with Trinity, and to provide a framework for degree completion, consistent with the mission, goals, and objectives of both institutions.
"Now you can see why we wanted to be here," said Wilson of the quality of the facility and partners within the region. "This partnership excels our mission to provide outstanding student support in achieving a very challenging goal. This is a remarkable facility, and our students look forward to being a part of it."
According to a recent profile from the Houston Home Journal, Trinity leadership is excited about the impact it can make on the Houston County economy, as it provides an opportunity for practicing medical professionals, physicians, and their families from all over the U.S. and Canada to relocate to central Georgia.  
# 
About Trinity Medical Sciences University (trinityschoolofmedicine.org)
Trinity Medical Sciences University, is a highly recognized and fully accredited, international medical school located on the beautiful island of St. Vincent. TSOM is a community of professionals committed in education, research, scholarly activity, patient care and well-being, and community service. Trinity holds itself to a special responsibility to train highly skilled physicians and to instill in them a passion and dedication to the health and welfare of the communities they will serve.
Trinity Medical Sciences University consists of two schools: The School of Medicine and School of Biomedical Sciences. Trinity Medical Sciences University is a school dedicated to student success by offering support, opportunity, understanding, and achievement through quality.
Learn more about Trinity at https://www.trinityschoolofmedicine.org/
Central Georgia Technical College, a unit of the Technical College System of Georgia, offers credit instruction, adult education, and customized business and industry training through traditional and distance education delivery designed to promote community and workforce development.
The College is accredited by the Southern Association of Colleges and Schools Commission on Colleges (SACSCOC) to award associate degrees and many programs hold industry-specific accreditations, licensure, and approvals from various state and national agencies. CGTC continues to contribute to economic and workforce development in its eleven-county service area and throughout the State of Georgia.
Photo: Trinity Medical Sciences University president and CEO, Mr. Steven R. Wilson, Houston Healthcare System chairman, Mr. Roy H. "Sonny" Watson, Houston Healthcare president and CEO, Mr. Charles Briscoe, and Central Georgia Technical College president, Dr. Ivan H. Allen, following an agreement signing to advance healthcare in central Georgia.