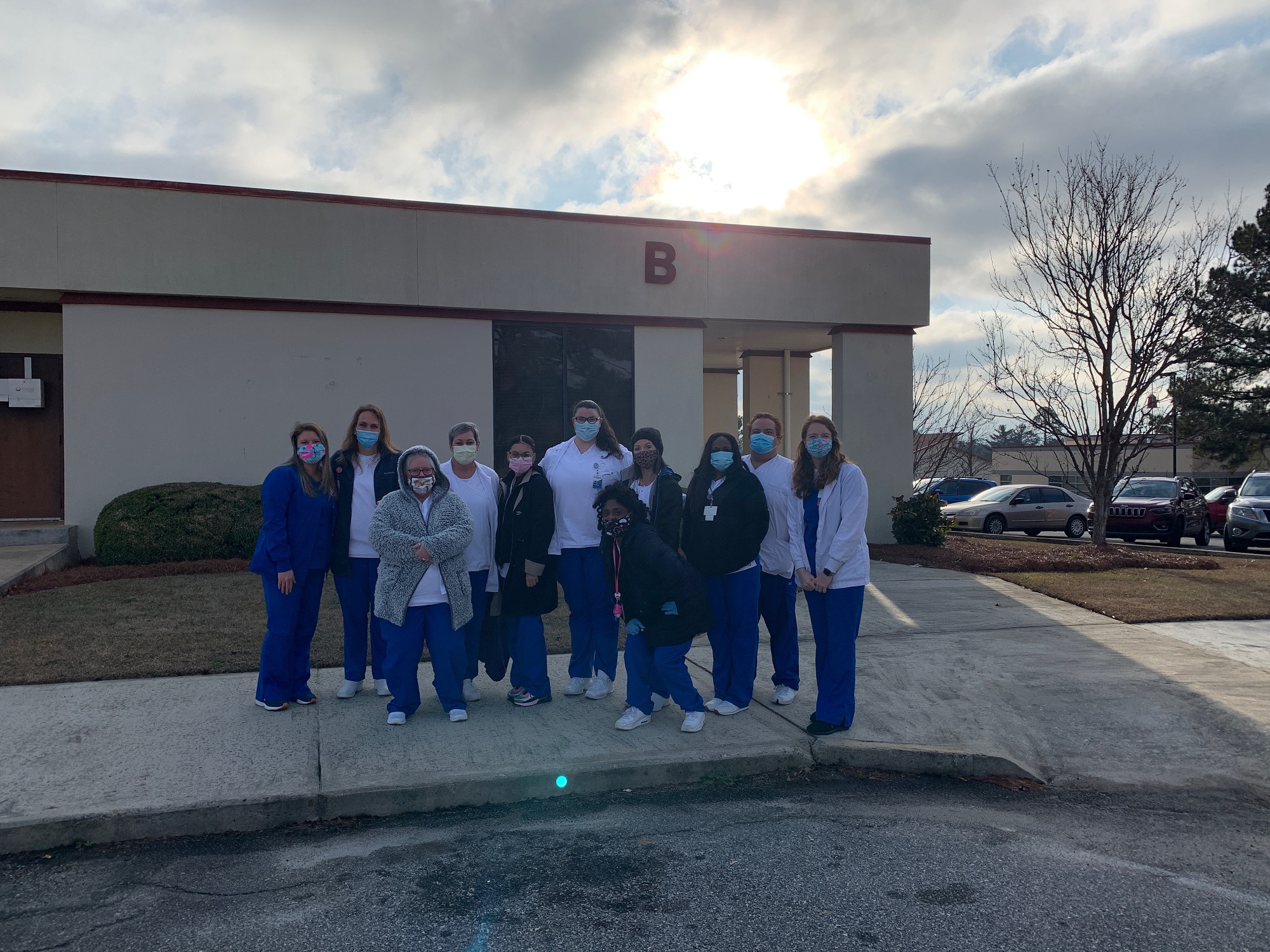 Hawkinsville, Ga. – A call to respond to new and vital medical situations is nothing surprising for Registered Nursing (RN) students and faculty at Central Georgia Technical College (CGTC). So, when Taylor Regional Hospital (TRH) in Hawkinsville came calling for help vaccinating the public against COVID-19, they went.
On January 13, TRH began its administration of COVID-19 vaccinations at no cost to the public, including healthcare workers, first responders, and community members ages 65 and older.
As many healthcare facilities nationwide begin their processes for vaccination, help is needed to register patients, administer doses, and complete protocols. Add all of those factors to a small, regional hospital, delivering the vaccine via drive-thru to patients eager for some resolution to a pandemic, and the value of an extra hand doubles.
Haley Kaufman, TRH chief nursing officer, acknowledged CGTC RN student and instructor participation in the vaccination event saying, "The assistance provided by the students and instructors was invaluable in helping us to provide our community and surrounding counties with over 600 COVID-19 vaccines in a timely manner."
"Everyone who participated in the event was willing to provide any assistance needed and were complimented by many for their enthusiasm. We sincerely appreciate all the effort and time provided by the RN students and instructors. We would be glad to welcome the students back to our facility anytime."
Public health of 2020, and now 2021, has offered students an unprecedented lecture on healthcare and a wealth of unique learning and real-life practicum opportunities. The RN students began their spring semester just four days prior to assisting with registration and screening, administering the vaccine, and monitoring citizens of Pulaski and surrounding counties after the vaccine.
"The nursing students and faculty lead the stations with the oversight of the TRH employees," said CGTC director of Nursing, Jessica Willcox. "It was a learning experience they will never forget."
Willcox added that students and faculty were able to see the excitement and gratitude of patients.
"Everyone that came through the line told the students and healthcare workers thank you for the work they do every day," she said.
CGTC student, Melissa Wood, values the growth and confidence she will gain in availing herself to a critical cause.
"As part of the program, we are preparing to meet the challenges and mold those challenges into opportunities to grow," she said. "Assisting with the COVID-19 vaccination clinic at Taylor Regional Hospital will be one of those memories that we pass down for generations. These are unprecedented times, and I am grateful to have the skills, knowledge, and confidence to be a part of the fight against COVID-19."
While some students like Wood, felt grateful for an opportunity to serve, others like, Audrey Fowler found something even more through the experience.
"Participating in this made me feel hopeful for the future," Fowler said.
The New York Times reports that the virus has claimed the lives of over 11,000 Georgia residents.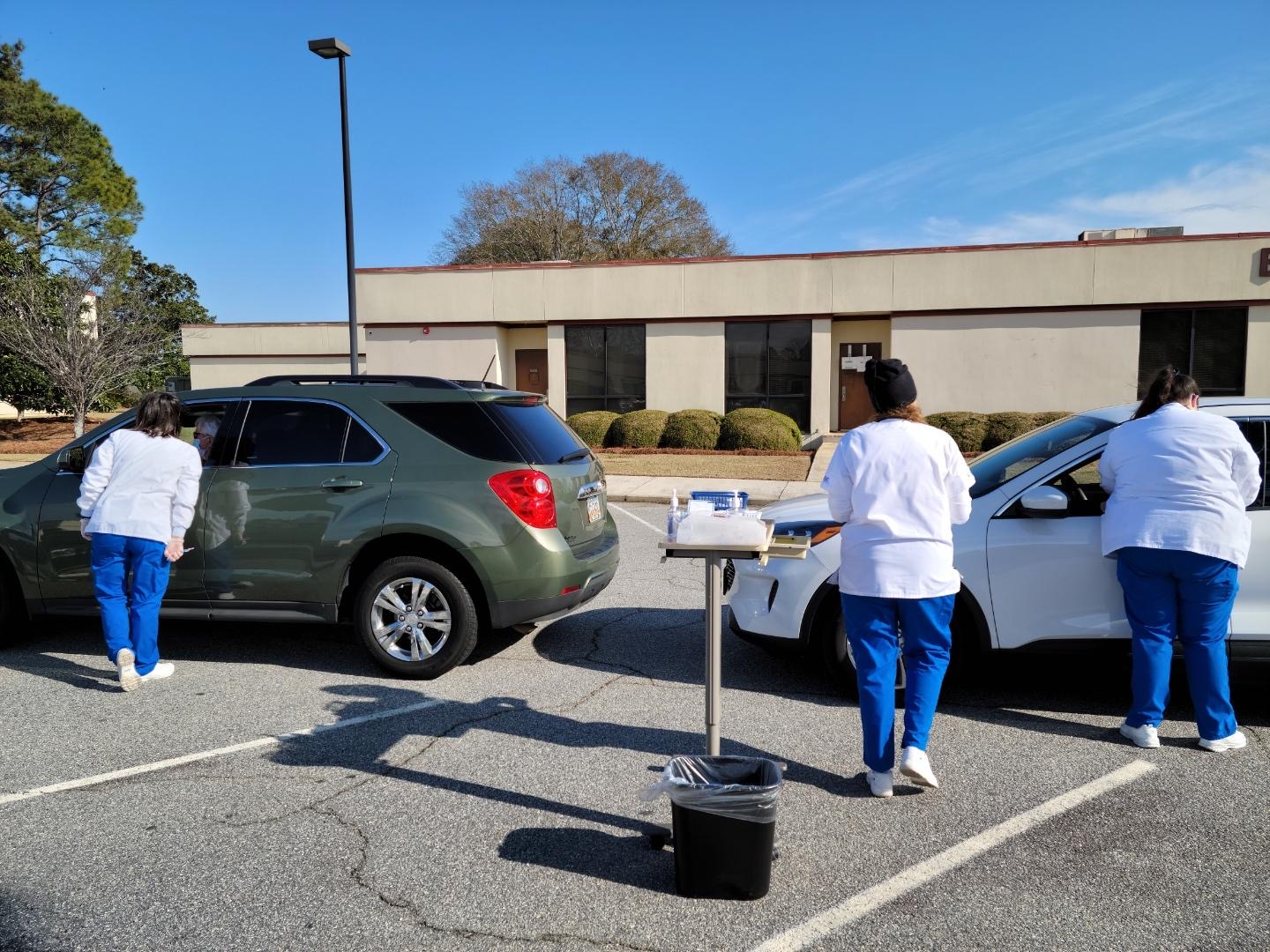 "It was eye-opening to witness first-hand what it takes to think on your toes and work with what you have while assisting the nurse at Taylor Regional," she said. "I am honored to be able to play a small role and help some during this pandemic, even though I am still a student."
More humbling and hopeful moments for eligible clinical RN and Practical Nursing (PN) students are on the way, as the next few weeks will see them return to the front, drive-thru lines of the COVID-19 pandemic vaccination.
CGTC RN students will continue to support Taylor Regional Hospital with upcoming vaccinations and the program has made itself available to other regional healthcare systems in their efforts to vaccinate.
CGTC is proud to partner with outstanding healthcare systems in their work to combat this pandemic in urban and rural areas of the College's 11-county service area.
PHOTO1: CGTC RN students gather for a photo outside Taylor Regional Hospital in Hawkinsville. 
PHOTO 2: Three RN students help register and administer the Moderna COVID-19 vaccine during Taylor Regional Hospital's drive-thru clinic on January 13. 
#