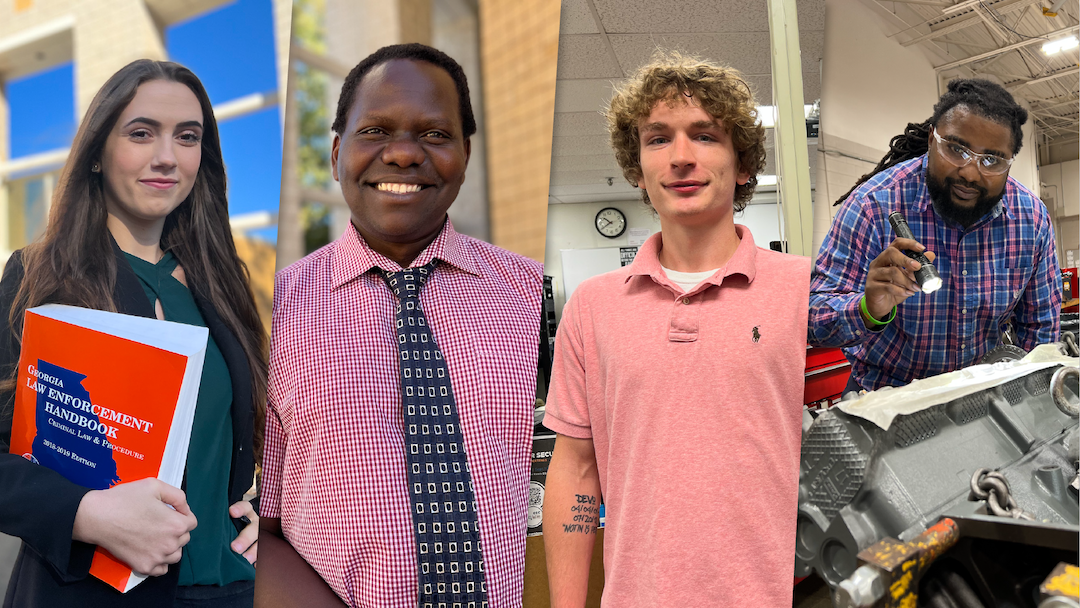 Warner Robins, Ga. – Four Central Georgia Technical College (CGTC) students have been selected as the college's semi-finalists for the Georgia Occupational Award of Leadership (GOAL), and will move on to the next round of judging November 29.
Chosen as semi-finalists are Brandon Hammonds, a Cybersecurity program student from Monroe County, Gillian Warstler, a Criminal Justice student from Houston County, Donald Ochieng, a Sports and Fitness Management student from Houston County, and Corinthian Quarterman, an Automotive Technology student from Dooly County. GOAL, a statewide program of the Technical College System of Georgia (TCSG), honors excellence in academics and leadership among the state's technical college students. GOAL winners are selected at each of the state's 22 technical colleges.
In the Spring, each college GOAL winner will compete in regional judging, which will include students from the other 21 TCSG's colleges.
From that competition, nine regional finalists, three finalists from each of the three regions, will be announced and compete at the state level in April.
A screening committee of administrators at CGTC selected the four semi-finalists from a group of instructor-nominated students. Nominated students who competed in the competition include, Michael Einbender, Welding and Joining Technology, Kandi Stephens, Radiologic Technology, Alexander Lewis, Welding and Joining Technology, Emily Mills, Radiologic Technology, Courtney Yoder, General Studies, Andrew McCleod, Surgical Technology, Haneefat Adanijo, Cybersecurity.
The next step is for a panel of business, civic, and industry leaders from the community to interview and evaluate these four students and select one to be the college's GOAL winner.
The State GOAL Winner, TCSG's Student of the Year, becomes the student ambassador for Georgia's entire technical college system and receives a grand prize of a brand-new car provided by Kia the statewide corporate sponsor of Georgia's GOAL program.