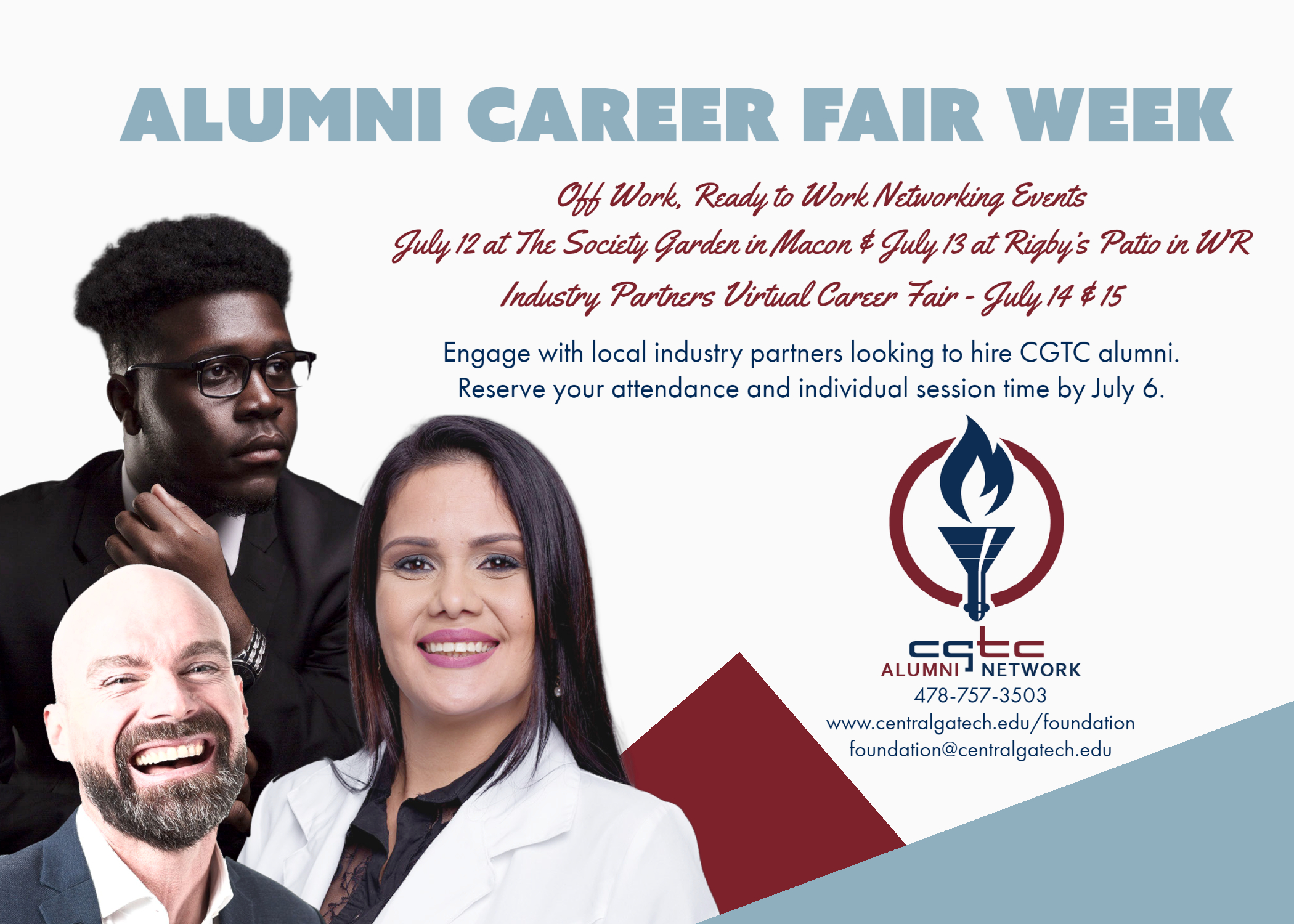 Macon, Ga. – The Central Georgia Technical College (CGTC) Foundation recently announced the revitalization of its Alumni Network as it strives to connect and support graduates during several special events the week of July 12-16.
The CGTC Alumni Network will host two networking events called, "Off Work, Ready to Work," for graduates to mingle and connect with local industry partners ready to hire. The events are limited to the first 50 participants.
Additionally, the Alumni Network will hold two virtual career fairs that week. Alumni are asked to reserve a session time to meet with local employers. The CGTC Foundation worked hand-in-hand with the CGTC Office of Career Services and Division of Economic Development to bring a diverse group of industry partners to these events.
"Requests from our industry partners to recruit and meet with CGTC alumni played a big role in our decision to launch the Alumni Network," said, Tyler Bryant who is in charge of planning Alumni Network events for the CGTC Foundation.
"We not only want our graduates to feel connected to the College when they step out into their careers, we want to offer them a chance to advance into new opportunities and give back by using their education, training, and skills, and have some fun along the way, too. Great careers are out there, and connecting everyone to each other is a start."
Here are the full details on the CGTC Alumni Network events in July:
Off Work, Ready to Work Events
Date: Monday, July 12
When: 5:30-7:30 p.m.
Where: The Society Garden in Macon
Date: Tuesday, July 13
When: 5:30-7:30 p.m.
Where: The Patio at Rigby's Entertainment Complex in Warner Robins
Virtual Career Fair Events
Dates: July 14 and July 15
Morning Sessions: 9 a.m.-11:30 a.m. (12 total sessions)
Afternoon Sessions: 1:00 p.m. -3:30 p.m. (12 total sessions)
There is no cost to participate in any of these events. Interested alumni are asked to RSVP before July 6 at https://s.surveyplanet.com/lx42eefxx. Additional information will be emailed to participants following registration.
The CGTC Alumni Network is open to all graduates of the college.
For more information on the events, or how to get involved with the Alumni Network, please contact Tyler Bryant at foundation@centralgatech.edu or by phone at 478-757-3503.
#