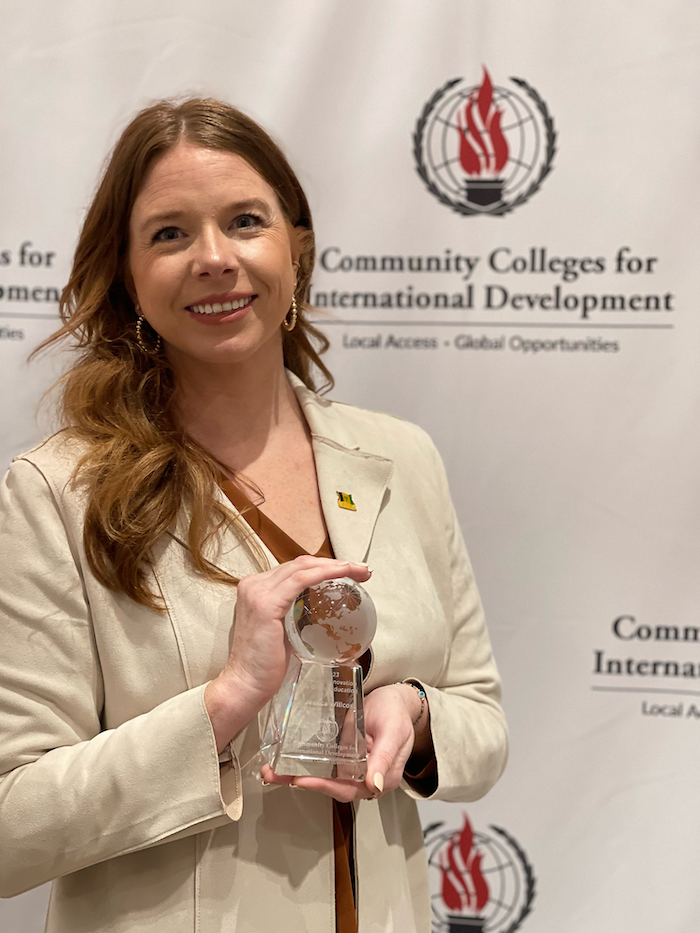 Warner Robins, Ga. – Central Georgia Technical College's (CGTC), director of Nursing, Jessica Willcox had never been on a plane when she traveled to St. Vincent and the Grenadines to assess the need for faculty-led service learning in May 2022. Now, less than a year later she's been named the 2023 Faculty Innovation in Global Education Award winner for the Community Colleges of International Development (CCID).
"I was once in the same place as many of our students, growing up in a rural area, first-generation college student, not having much exposure to the world," Willcox said in her acceptance speech in Washington D.C. during the 47th Annual Conference for CCID. "So, it is my privilege to stand before you, as the winner, today and share about the innovative work being done in my field for global education and study abroad."
Willcox shared about how her innovative work to create the College's first technical-focused study abroad experience helped students to learn in environments beyond their own culture and communities, where healthcare challenges compare immensely.
Her work in the 2023 Health Sciences Study Abroad in St. Vincent and the Grenadines traveling in January 2023 was a first-of-its kind approach for the CGTC Office of Global Initiatives. The innovative program was developed in less than one year alongside the CGTC Division of Health Sciences, Trinity School of Medicine, St. Vincent and the Grenadines Community College and Milton Cato Memorial Hospital.
Health Sciences curriculum regularly requires students to engage in volunteer healthcare as a response to community challenges. It was a logical for Willcox to create outlets for this service addressing areas of need in St. Vincent and the Grenadines. Dental Hygiene, Paramedicine, and Registered Nursing students attended the service-learning trip. Willcox expressed her gratitude to colleagues, Kelly Scruggs, program chair for Dental Hygiene, and Rick Ellis, Health Sciences instructor and division chair for their work on the program.
Willcox work met the criteria for the award by developing innovations and new applications of curricular approach to education abroad, it advanced internationalization of the college environment, and established a first-time program for her institution.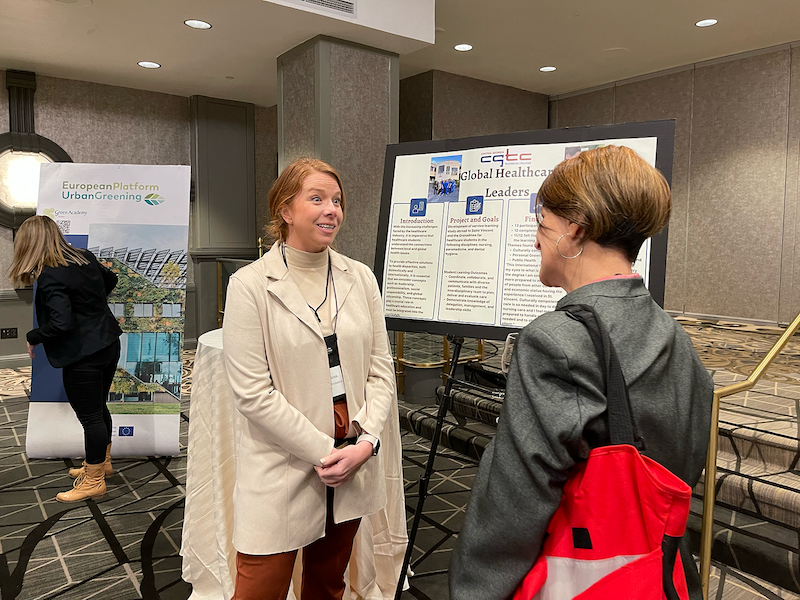 "This international award for a deserving educator, speaks to the entire CGTC mission and our commitment to each student's academic and career goals," said, JoBen Rivera-Thompson, CGTC's Marketing and International Outreach Coordinator, "It does not matter how you come here, it matters how you leave, and in between all of that, we will open doors to the world for anyone to become an empathetic, global citizen, ready for the workforce."
The Faculty Innovation in Global Education Award recognizes a faculty member from a CCID member institution for outstanding contributions to global engagement through innovative teaching and co-curricular activities. A nominee must have contributed to the field through creating or implementing a new approach in the classroom or in co-curricular activities such as study abroad. Full or part-time teaching faculty were eligible for this award.
"I hope for my fellow colleagues at CGTC, this initiative and award for this work will encourage the internationalization of our curriculum and programs to include global experiences in a variety of technical disciplines," she said. "It is vital community and technical educators embrace these types of global experiences to create the next generation of workforce leaders."
For more information about CCID visit, www.ccid.org.