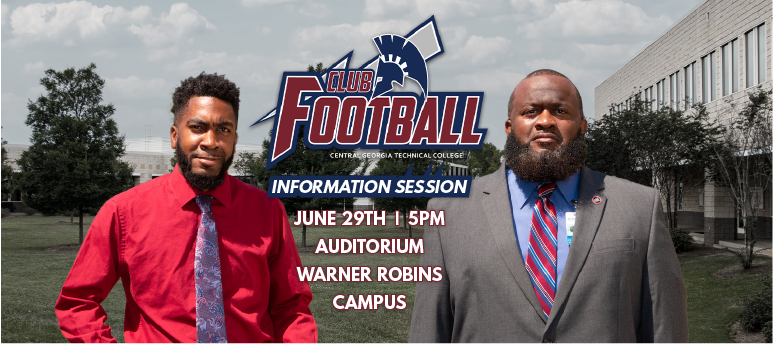 Warner Robins, GA – Beginning fall 2022, Central Georgia Technical College  (CGTC) will join the National Club Football Association (NCFA), officially adding club football. The College is also adding cheer and club soccer to its campus activities.
"It is important for us to bring these activities to the CGTC campus," said Dr. Bruce Foster, Executive Director for Student Support Services at CGTC. "We want to give our students every opportunity to advance themselves, both inside and outside of the classroom. This program will serve as an opportunity for those who love sports to play in a safe and inclusive environment, while working toward their educational goals."
Terry Kendrick and Brandon Williams have both been named as new staff members at the College to support club sports. Both are Central Georgia natives and have experience coaching football at the middle school, high school, and college level.
"Starting a club football program from the ground up is an incredible opportunity," said Terry Kendrick, program specialist with CGTC's new club sports program. "We have a lot of athletic talent at and around CGTC, and club football is going to give our students an opportunity to showcase their talents while  earning a college credential."
"I want to be part of something that will attract more students to CGTC," said Brandon Williams, another club sports program specialist. " CGTC already participates in NJCAA Division I basketball and cross country; the addition of club sports will provide more options for students to be involved in campus activities."
Club sports at CGTC will be self-sustaining. Solely funded by Student Activity fees, as allotted by the Student Government Association leaders, and student participation fees, these new activities will serve to augment and enhance the student experience at CGTC. Students who participate are not offered athletic scholarships.
An information session for interested football players is scheduled for June 29th at 5:00 pm in the Auditorium on the Warner Robins campus. To participate, students must be enrolled at CGTC with a minimum of six credit hours. As part of the NCFA, the Titans will join Middle Georgia State University, as well as Gordon State College and Columbus State Colleges as league participants.
"CGTC is an incredible institution and it's only right that we have an incredible team to complement that. Yes, we want to win games, but it's also a priority of mine for our student athletes to excel in the classroom and beyond," said Kendrick. "We're going to build a team that is respected both on and off the field."
"Education comes first, and it always will," Williams added. "Like Terry said, yes, we want to win, but our goals extend beyond that. We want to bring more student athletes to CGTC so that they can develop their skills on the field, but also gain knowledge in the classroom. Our goal is that no matter their next step in life, our students will be prepared for it." For more information, contact Dr. Bruce Foster at bfoster@centralgatech.edu


About Terry Kendrick
Houston County native, Terry Kendrick, is a graduate of Houston County High School where he played both football and basketball and ran track. He attended Central Georgia Technical College, earning his associate's degree in Electronics before going on to earn his bachelor's degree in Business Management from the University of Phoenix.

Prior to accepting his current position at CGTC, Kendrick held several positions with the football team at Middle Georgia State University, including Associate Head Football Coach. During his tenure, the team won two conference championships. He also assisted in securing athletic scholarships for several graduating students moving on to other four-year institutions. Terry Kendrick lives with his family in Warner Robins.


About Brandon Williams
Brandon Williams is a native of Houston County. He is a graduate of Warner Robins High School where he was on the football team. He went on to earn a General Studies degree at Georgia Military College and studied Health Sciences at Columbus State University.
Before coming to CGTC, Williams was a remediation specialist at Westside Elementary in Warner Robins. He has been coaching football since 2013. Under his leadership, his team won two state championships in Peach County and one at Warner Robins High School. Along with his duties at CGTC, Williams also serves as a character coach for WRHS football through the fellowship of Christian athletes.

Brandon Williams is a member of Phi Beta Sigma Fraternity, Inc. He lives with his wife in Warner Robins.

About Central Georgia Technical College
Central Georgia Technical College, a unit of the Technical College System of Georgia, offers
credit instruction, adult education, and customized business and industry training through
traditional and distance education delivery designed to promote community and workforce
development.

The College is accredited by the Southern Association of Colleges and Schools to award
associate degrees and many programs hold industry-specific accreditations, licensure, and
approvals from various state and national agencies. CGTC continues to contribute to economic
and workforce development in its eleven-county service area and throughout the State of
Georgia.