College business operations will follow a schedule of Monday – Thursday 7:45 a.m. – 4:45 p.m. and Friday 7:45 a.m. – 3:30 p.m.
---
Fall Schedule Update
We are making some adjustments to fall semester class schedules to provide students flexible options for instructional delivery. These adjustments are based on safety guidelines for reopening our campuses and instructional sites. Specific instructions on class meetings will be e-mailed to students through their CGTC accounts on or before the August 18 fall semester start date.
Thank you for your patience during this process. We look forward to welcoming you back fall semester!
---
Fall 2020 Operational Plan Update
Following guidance from the Governor's Executive Orders, the Technical College System of Georgia (TCSG), the Centers for Disease Control and Prevention (CDC), and Georgia public health officials, CGTC has developed an operational plan that will serve as a roadmap for the College's Fall 2020 on-campus services. The College recognizes that guidance is subject to change at any moment, and as such, our plans will change accordingly to ensure the health and safety of our students, employees, and campus guests.
The following information is provided as a guide regarding CGTC's Fall 2020 operational plan. We look forward to welcoming back faculty, staff, and students to our campuses and centers this fall. Our goal is to move forward safely and responsibly to deliver on our workforce development mission while minimizing the risk for our students, faculty, and staff.
Will fall semester classes be on-campus or online?
Students will have the choice of flexible delivery options for most courses, including on-campus classes, hybrid (partially remote and partially on-campus) classes, or fully remote (online) classes. To accommodate appropriate physical distancing, we will prioritize certain classes for in-person delivery, such as lab-intensive and clinical courses that require physical interaction and on-site equipment.
How will fall semester classes be scheduled?
To reduce the spread of COVID-19, CGTC will implement multiple strategies to adhere to social distancing guidelines, including but not limited to: staggered class scheduling, cohort scheduling, adjusting class sizes, extending time between classes, staggered break times between classes, and expanded class meeting times.
What safety practices will CGTC follow to ensure the health and safety of students, employees, and guests while on campus?
CGTC will follow health and safety practices for on-campus activities and instruction that include routine cleaning and disinfecting of classrooms, labs and common areas, social distancing and personal hygiene practices, self-screening, and the use of personal protective equipment (PPE) as recommended by the Georgia Department of Public Health (GDPH), the Centers for Disease Control (CDC), and applicable guidance from the Governor's Executive Orders.
Will students have access to the library and tutoring center?
Yes, library and tutoring center resources will be accessible for student use both online and on-campus. For more information regarding on-campus hours and services, please check the Library and Academic Success Center (ASC) web pages.
How will classes be affected if there is another wave of COVID-19 cases?
In the event of significant changes related to transmission of the virus, the College will follow appropriate guidance in adapting educational services.
What should someone do if they become ill while on campus?
Anyone who feels ill prior to arriving to campus should not come on campus. All individuals on campus should self-monitor and leave campus immediately if they become ill. Anyone who may become ill and has no way to immediately leave the campus will be directed to designated isolation areas. For the College's three campuses, the isolation areas are:
• Warner Robins: Private room adjacent to the Student Center
• Macon: Building-A Human Resources Conference Room
• Milledgeville: Room D-103
• Satellite Centers: Hawkinsville (HW106), Peach (115), Putnam (Villa 1), Monroe (Rm 109) or contact on-site administrator.
What if I need services from other offices at the College?
All CGTC offices will be open for normal business operations and will follow a schedule of Monday – Thursday 7:45 a.m. – 4:45 p.m. and Friday 7:45 a.m. – 3:30 p.m.
Fall semester begins Tuesday, August 18. Please check this web page frequently for updated information on CGTC's Fall 2020 operational plan.
---
Updated June 29, 2020
Students can now access student services on campus such as admissions, financial aid, the bookstore, and limited registration services. However, students are highly encouraged to call or email to conduct as much business as possible remotely.
The Library is open for computer access by appointment only. To schedule an appointment, call your campus library or fill out the online appointment request form. Tutoring services will continue to be available online for summer semester. Beginning Monday, July 6, a limited number of in-person tutoring sessions at the ASC will be available.  Book your tutoring session online at TutorOcean or by emailing tutor@centralgatech.edu.
When on campus, social distancing guidelines will be enforced for visitors and staff. No more than two students will be allowed in an office at a time. Students are encouraged NOT to bring additional guests to campus when visiting for needed student services.
All summer semester courses will be delivered in an online/distance education format, with limited learning on and off-campus as needed. On-campus lab classes are subject to approval and will follow safety guidelines under guidance from the Governor's Executive Orders, the Technical College System of Georgia (TCSG), and Georgia public health officials. Students registered for classes with approved on-campus labs or any off-campus clinicals or other work-based learning activity should await guidance from their course instructors via their CGTC email account regarding selection for limited lab sessions.
If you need assistance with courses, please contact your instructor or advisor directly via email or phone. Contact information for your instructors can be retrieved in the Student Portal or Blackboard.
For other questions or services, please contact the College by phone or email.
CGTC Contact Information
Phone: (478) 988-6800
Email: info@centralgatech.edu
---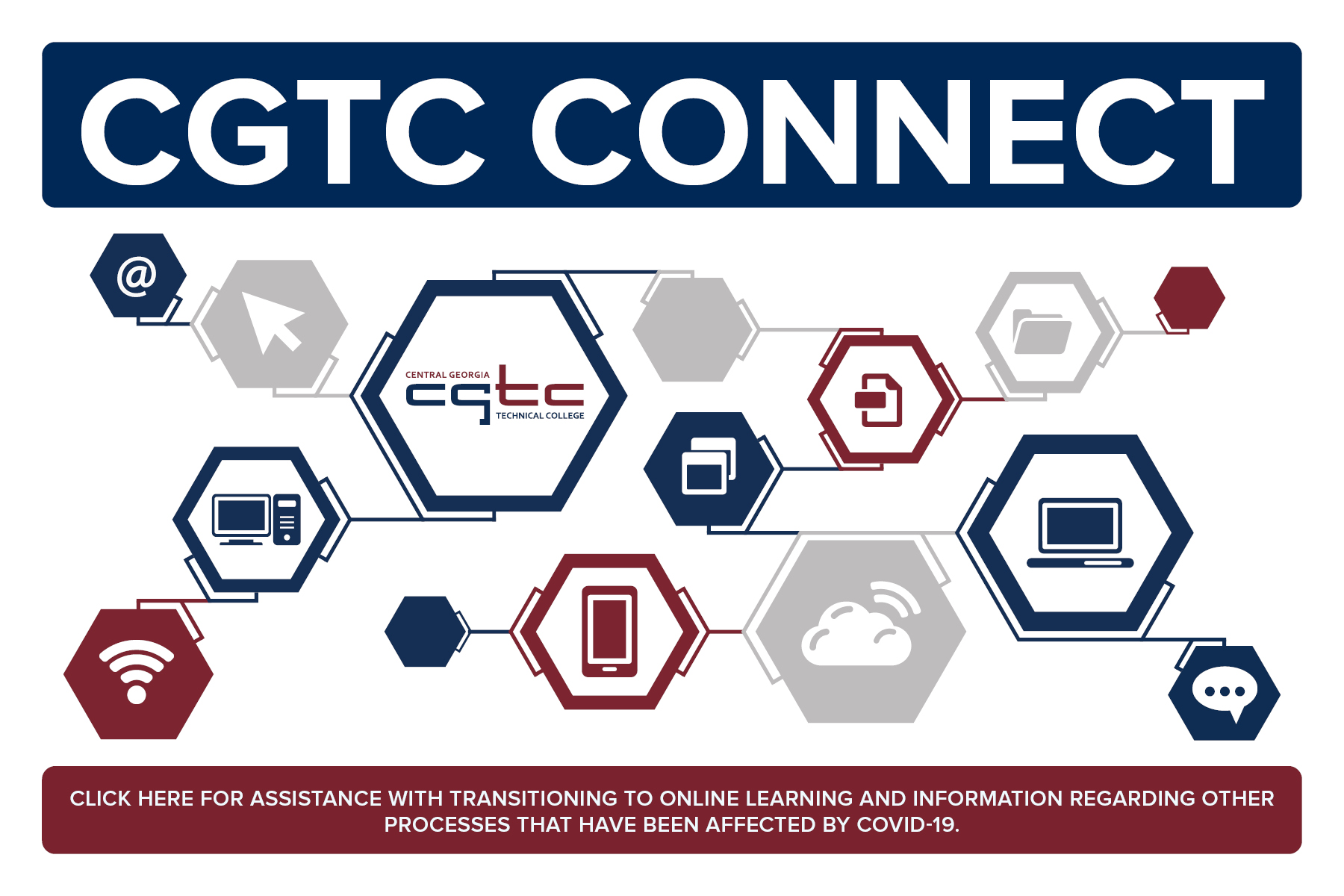 ---
Central Georgia Technical College continues to actively monitor the spread of the novel coronavirus disease (COVID-19) due to infection with novel coronavirus (2019-nCoV). The College remains in contact with the Technical College System of Georgia and Georgia public health officials to ensure that we are following the latest information, trends, and guidance from the Centers for Disease Control and Prevention.
The safety and well-being of the College community is always our highest priority. We will update this page as needed to keep our campus community informed.
Preventing the illness
Currently, there is no vaccine to prevent COVID-19 infection. The best way to prevent infection is to avoid being exposed to this virus. To prevent the spread of respiratory viruses, the CDC recommends everyday preventive actions, including:
Wash your hands often with soap and water for at least 20 seconds. Use an alcohol-based hand sanitizer that contains at least 60% alcohol if soap and water are not available.
Avoid close contact with people who are sick.
Stay home when you are sick.
Cover your cough or sneeze with a tissue, then throw the tissue in the trash.
Clean and disinfect frequently touched objects and surfaces.
These are everyday habits that can help prevent the spread of several viruses. The CDC also offers specific guidance for travelers.
What happens if a case is identified?
The CDC, Georgia State Department of Public Health (GDPH), and local health care experts will be integrally involved if a case is identified. The College remains in close contact with multiple agencies to understand protocols and refine our plans as the recommendations from national and state authorities evolve and change.
The College has a response plan and contingency plan that can be called into place if needed. Additional updates on these plans will be posted on our Public Safety page.
Resources
CDC Environmental Cleaning and Disinfection Recommendations
Georgia Department of Public Health
GDPH North Central Health District