College business operations will follow a schedule of Monday – Thursday 7:45 a.m. – 4:45 p.m. and Friday 7:45 a.m. – 3:30 p.m.
As of May 18, 2020, students can access student services on campus such as admissions, financial aid, the bookstore, and limited registration services. However, students are highly encouraged to call or email to conduct as much business as possible remotely.
The Library will be open for computer access by appointment only beginning May 26, 2020. To schedule an appointment, call your campus library or fill out the online appointment request form. Tutoring services will continue to be available online for summer semester. Book your tutoring session online at TutorOcean.
When on campus, social distancing guidelines will be enforced for visitors and staff. No more than two students will be allowed in an office at a time. Students are encouraged NOT to bring additional guests to campus when visiting for needed student services.
All summer semester courses will be delivered in an online/distance education format, with limited learning on and off-campus as needed. On-campus lab classes are subject to approval and will follow safety guidelines under guidance from the Governor's Executive Orders, the Technical College System of Georgia (TCSG), and Georgia public health officials. Students registered for classes with approved on-campus labs or any off-campus clinicals or other work-based learning activity should await guidance from their course instructors via their CGTC email account regarding selection for limited lab sessions.
If you need assistance with courses, please contact your instructor or advisor directly via email or phone. Contact information for your instructors can be retrieved in the Student Portal or Blackboard.
For other questions or services, please contact the College by phone or email.
CGTC Contact Information
Phone: (478) 988-6800
Email: info@centralgatech.edu

---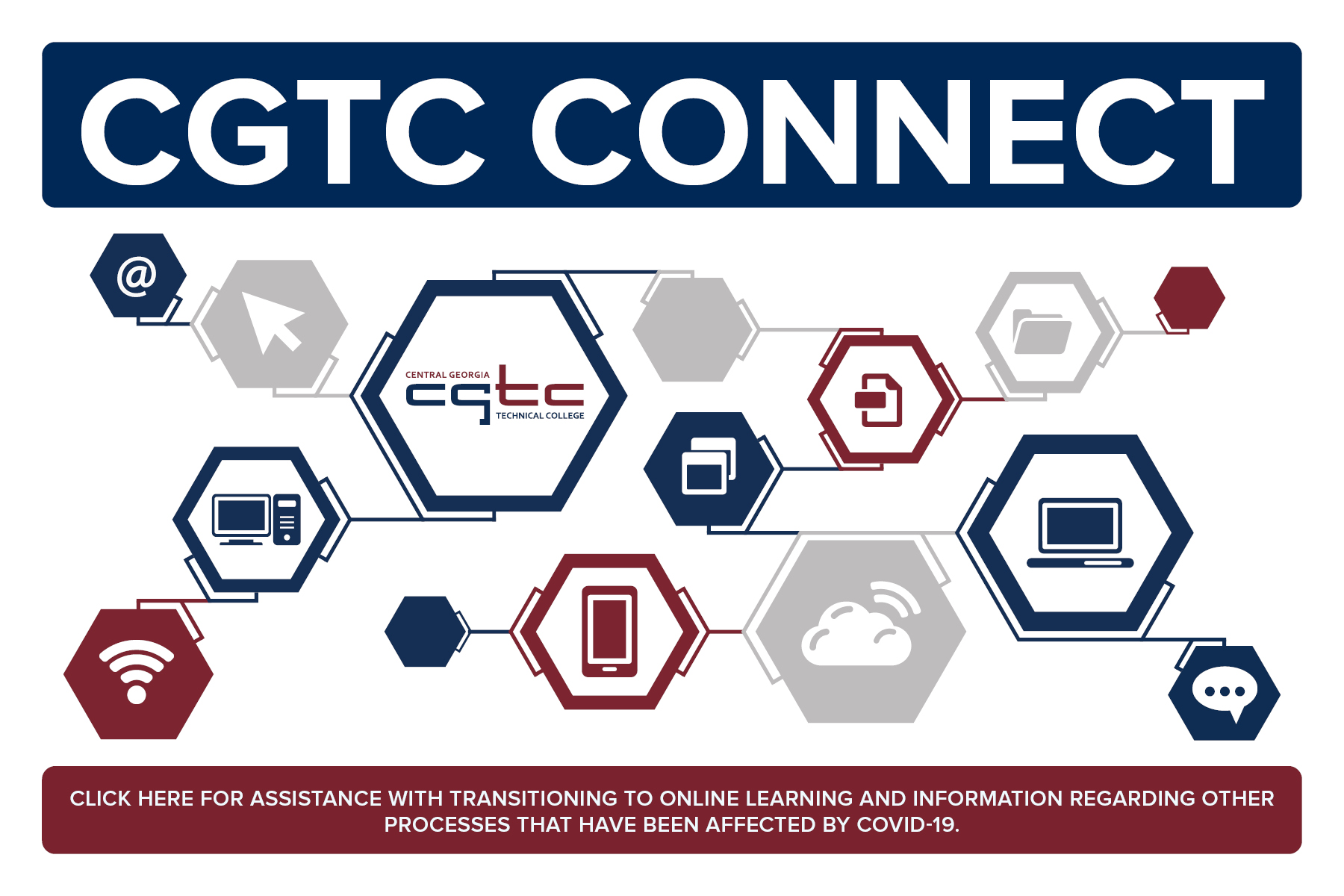 ---
Central Georgia Technical College continues to actively monitor the spread of the novel coronavirus disease (COVID-19) due to infection with novel coronavirus (2019-nCoV). The College remains in contact with the Technical College System of Georgia and Georgia public health officials to ensure that we are following the latest information, trends, and guidance from the
Centers for Disease Control and Prevention
.
The safety and well-being of the College community is always our highest priority. We will update this page as needed to keep our campus community informed.

Preventing the illness
Currently, there is no vaccine to prevent COVID-19 infection. The best way to prevent infection is to avoid being exposed to this virus. To prevent the spread of respiratory viruses, the CDC recommends everyday preventive actions, including:
Wash your hands often with soap and water for at least 20 seconds. Use an alcohol-based hand sanitizer that contains at least 60% alcohol if soap and water are not available.
Avoid close contact with people who are sick.
Stay home when you are sick.
Cover your cough or sneeze with a tissue, then throw the tissue in the trash.
Clean and disinfect frequently touched objects and surfaces.
These are everyday habits that can help prevent the spread of several viruses. The CDC also offers specific guidance for travelers.
What happens if a case is identified?
The CDC, Georgia State Department of Public Health (GDPH), and local health care experts will be integrally involved if a case is identified. The College remains in close contact with multiple agencies to understand protocols and refine our plans as the recommendations from national and state authorities evolve and change.
The College has a response plan and contingency plan that can be called into place if needed. Additional updates on these plans will be posted on our Public Safety page.

Resources
CDC Environmental Cleaning and Disinfection Recommendations
Georgia Department of Public Health
GDPH North Central Health District